We are onto the last stop of our Greek adventure – Athens. Don't forget to check the out Mykonos, Santorini, and Crete posts!
We arrived in Athens with Ryanair from Crete and found the airport easy to navigate. Like Crete, all the signs were written in Greek and English so we found our way to collect our bags and then headed off to grab a train downtown. There is one main train line that runs to and from the airport. You can get a tourist transit pass for 30euros and that gives you a train ride to and from the airport and unlimited use of all the transit systems (bus, tram, and train) for 72 hours. We didn't plan on using transit, apart from getting to and from the airport, so we bought a 2 person one way pass for 18 euros to get to our hotel and then again to get back to the airport. We booked our accommodation through Air BnB and it was right in the heart of the city. The train ride from the airport was about 45 minutes to the Monastiraki metro station. From there it was about a 5-minute walk to our apartment. Our place was a simple studio apartment, but had recently been renovated and was very modern looking inside. We think the hosts, two sisters, own the whole building and rent each of the apartments on Air BnB. They were super easy to get in touch with and met us at the apartment when we arrived (they live in the building too). Eva showed us around, gave us a map where they suggested restaurants, pharmacy, grocery store, mini markets, etc. By the time we get settled it was around 6pm and started to rain. We grabbed some gyros from a quick spot and then found a tavern Eva had recommended and grabbed some drinks.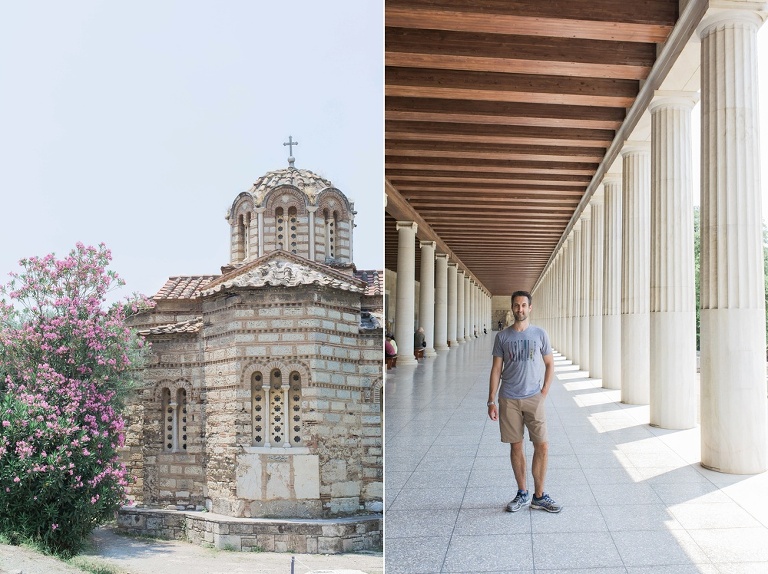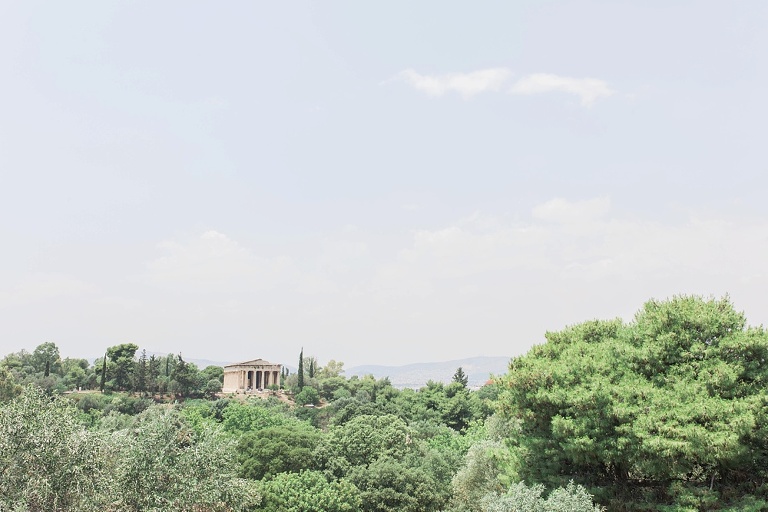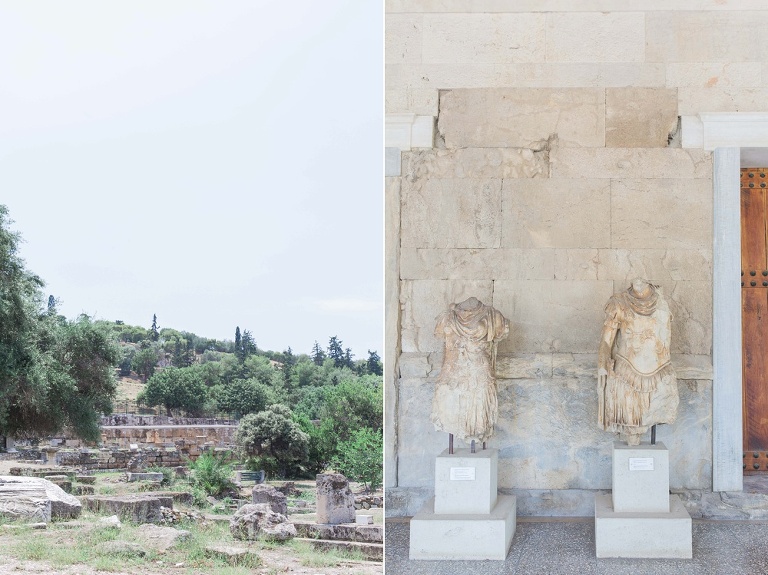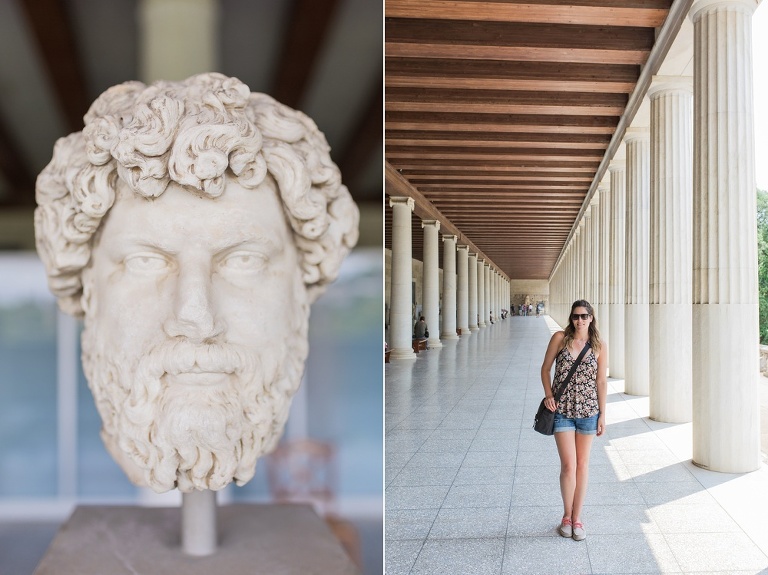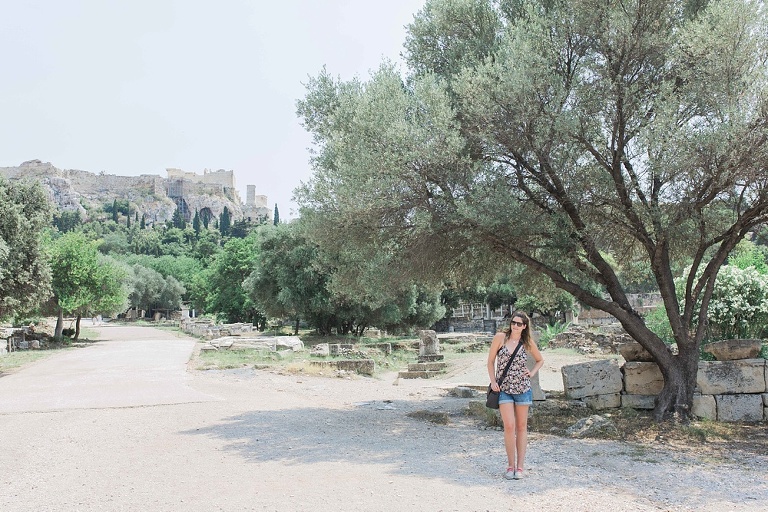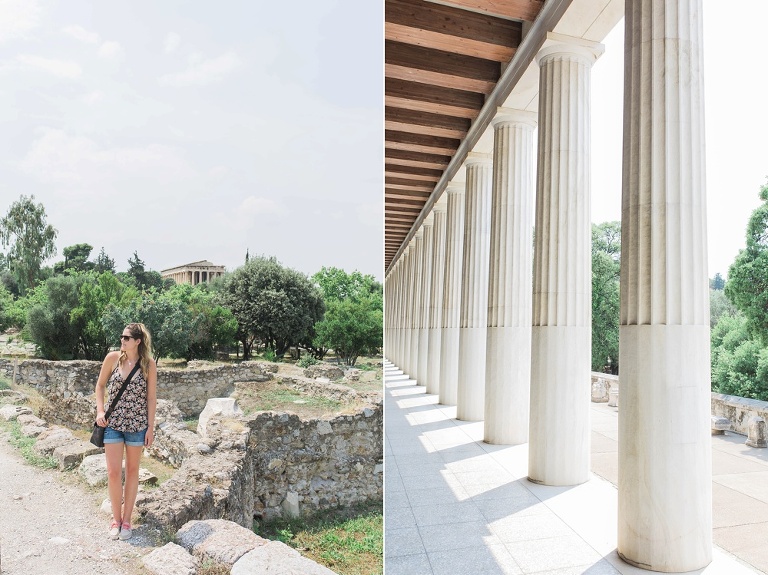 One of my wedding couples had visited Greece on their honeymoon and Beth, my bride, had sent me some suggestions from their time in Athens (thanks Beth!). They had loved a guide they had done a tour with and passed along his contact info. George was great and we met him and a few other folks at 9:45 the next morning for a 2 hour walking tour of Athens. The tour was free, you just tipped George at the end depending on what you thought it was worth. George was actually a archeologist who loved history and was pretty politically interested. He gave such a great overview of the history of Athens, combining legends, mythology, and facts. Some of my favourite things I leaned:
The word Idiot actually comes from the Greek work idiōtēs which means private citizen.
The battle of Marathan was faught by the Athenians against the invading Perisians. The Athenians were outnumbered 5-1, but they out maneuvered the Perisian army and were victorious. The Perisian army retreated to their fleet and began to sail around the bottom of Greece to reach Athens on the other side, knowing the full Athenian army was 26.2 miles away at Marathan Beach. Some of the Athenian politicians were corrupt and spreading rumours that there was no way the Athenian army could have been successful at marathon beach and that the people of Athens should welcome the Perisians into their city. One soldier ran non-stop the whole way to Athens (42 kms) to tell the people of Athens about the victory. The soldier arrived Athens and said the word "Nike", then collapsed and died. "Nike" in Greek means victory! The Perisian army arrived in Athens but decided against taking the chance to land on the shore and instead sailed home. They returned 10 years later to attack Athens again, but it was 26.2 mile (or 42 km) run from Marathan Beach to Athens that is the basis for the marathon runs that happen across the world today.
Athens, unlike other old cities like Rome, was not always inhabited. Since there were many points in history when Athens was all but abandoned, all of the old buildings and temples have mostly faded away in time. Control of Athens constantly changed hands, and with each new crusade, many of the old buildings were sacked, torn down, or the materials were used to create new buildings or protective walls. Many of the ancient sites you can visit have been re-created over the years, or just have a few structural items remaining. For example, the temple of Zeus isn't really a temple anymore, it is just 7 pillars standing in the middle of a grassy area. Don't get me wrong, still cool to see though!
After the tour we grabbed a quick lunch (yay for Gyros), packed up our camera bag and set out to see the sights for ourselves.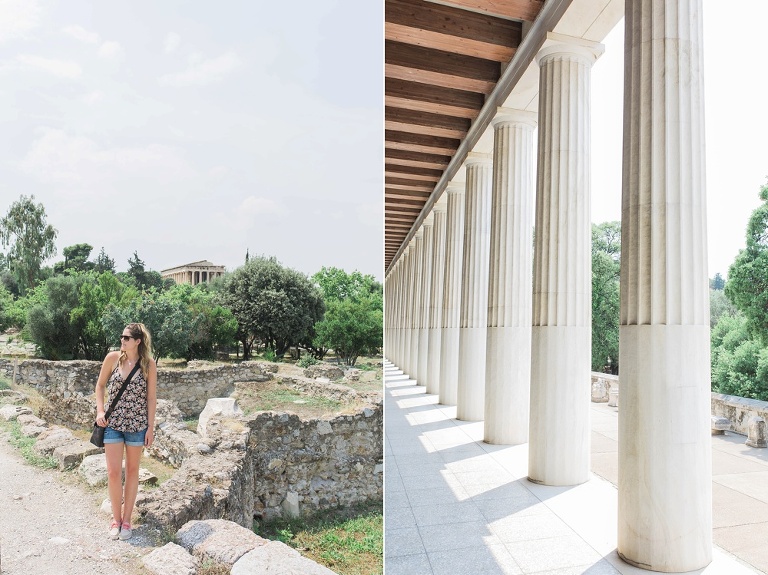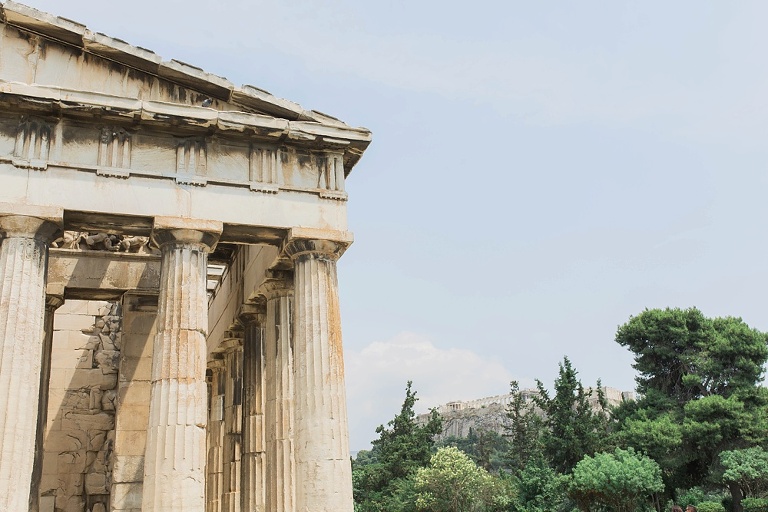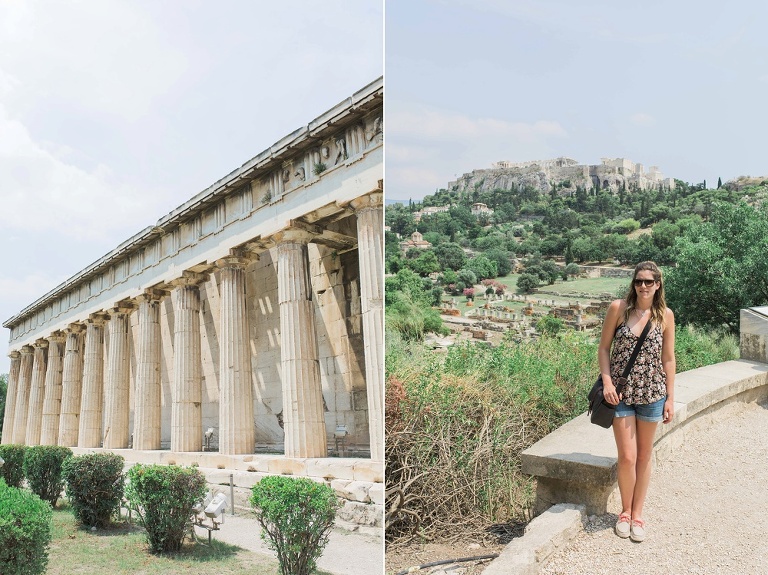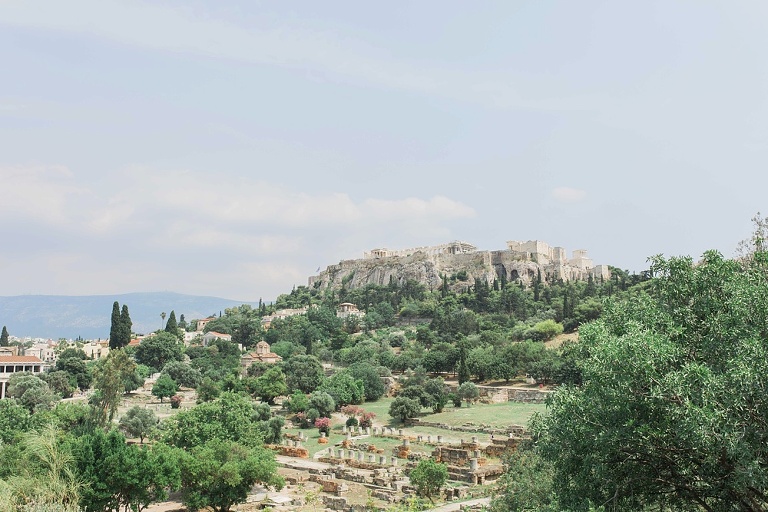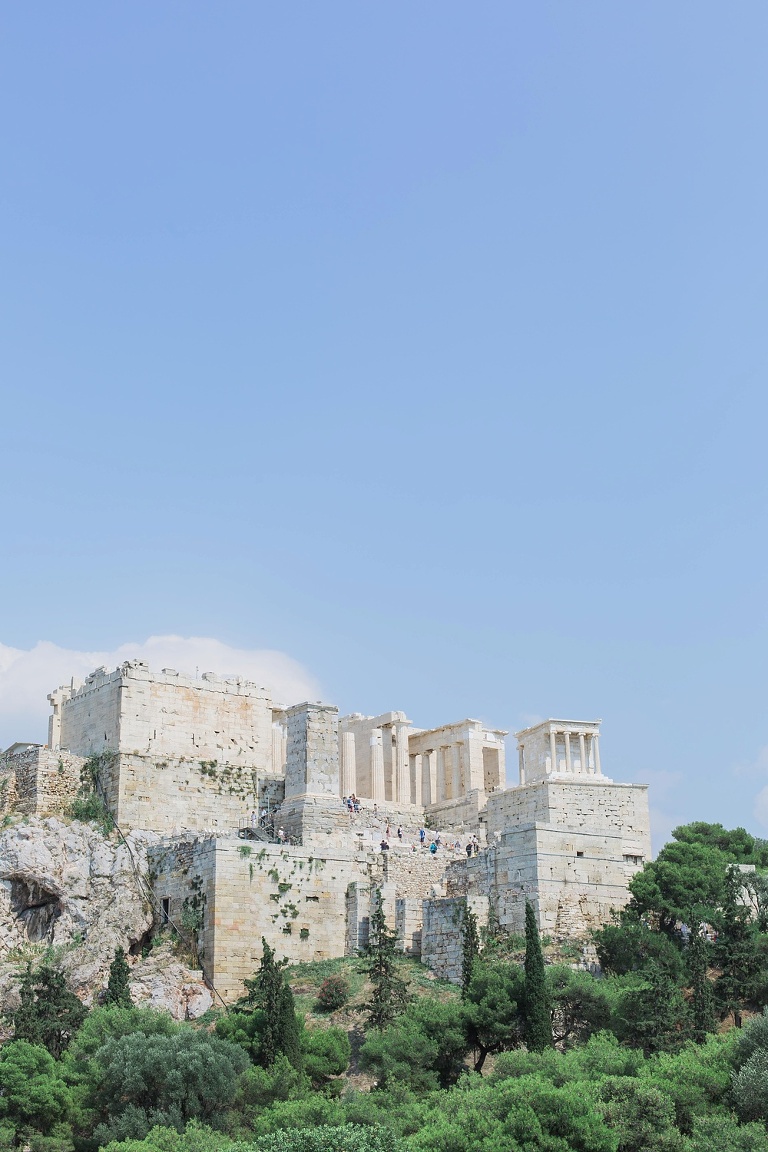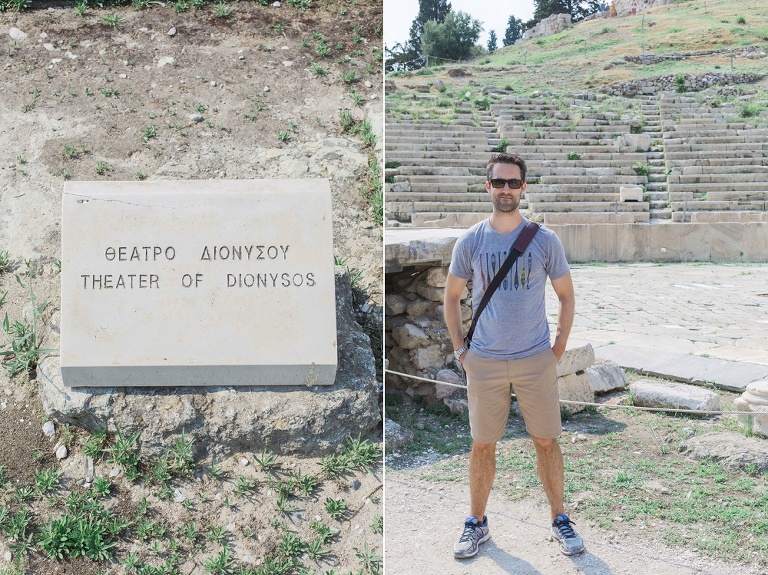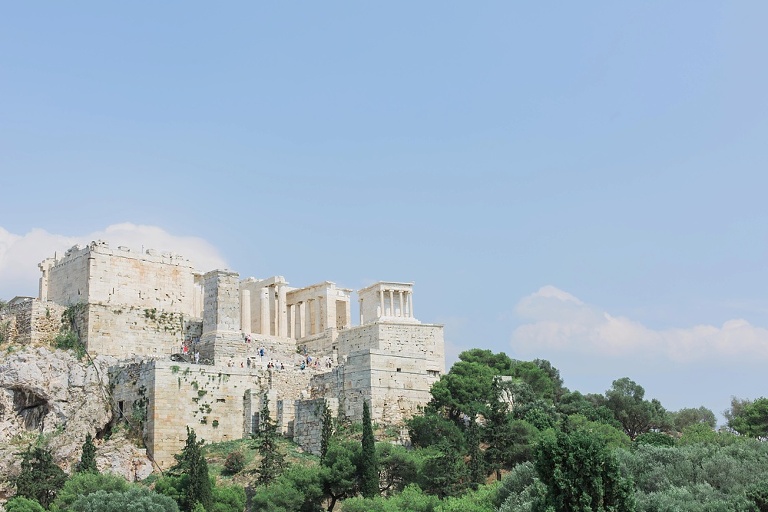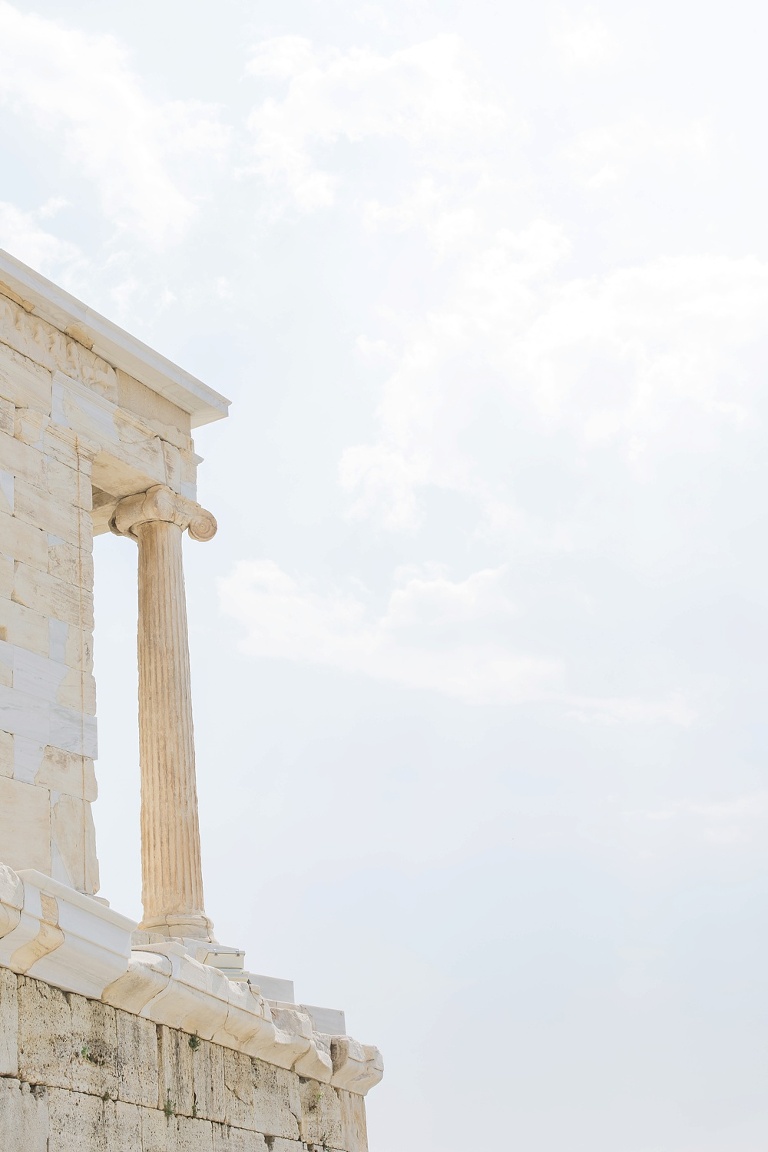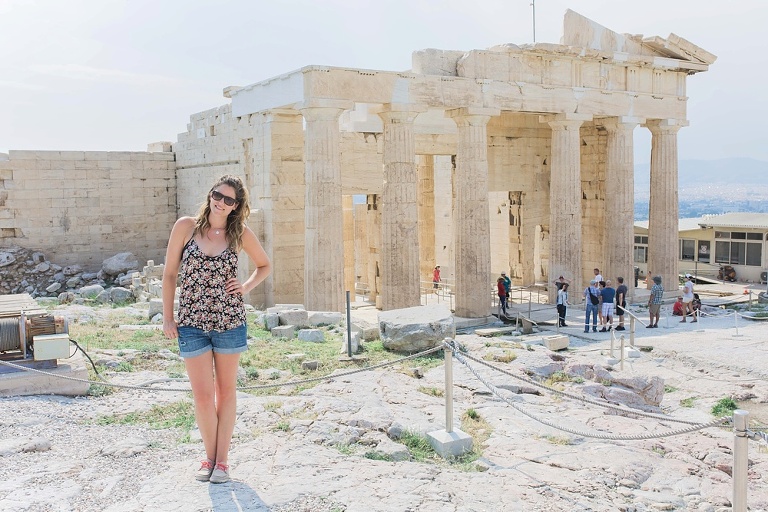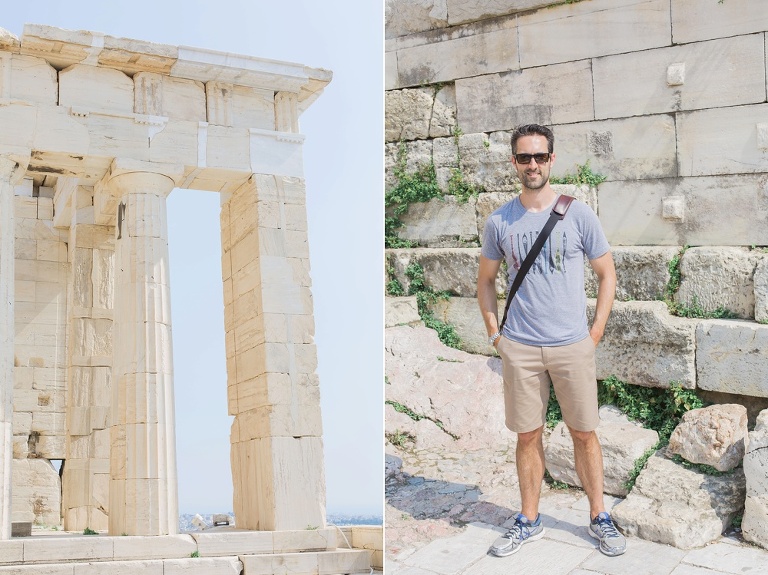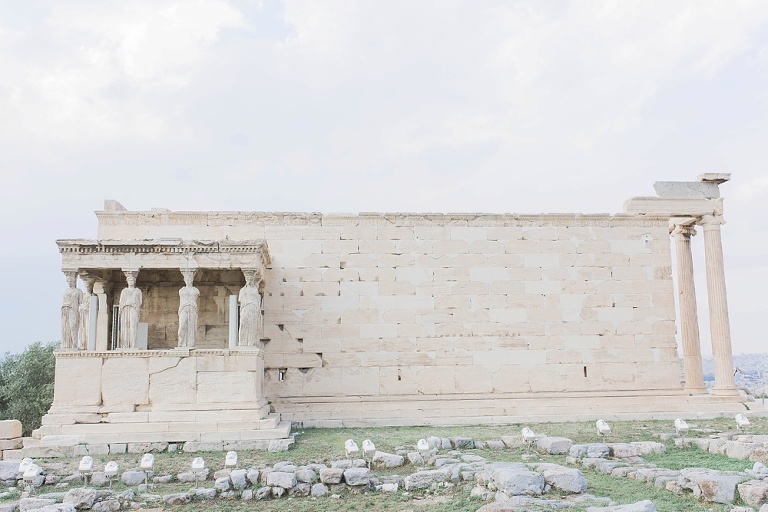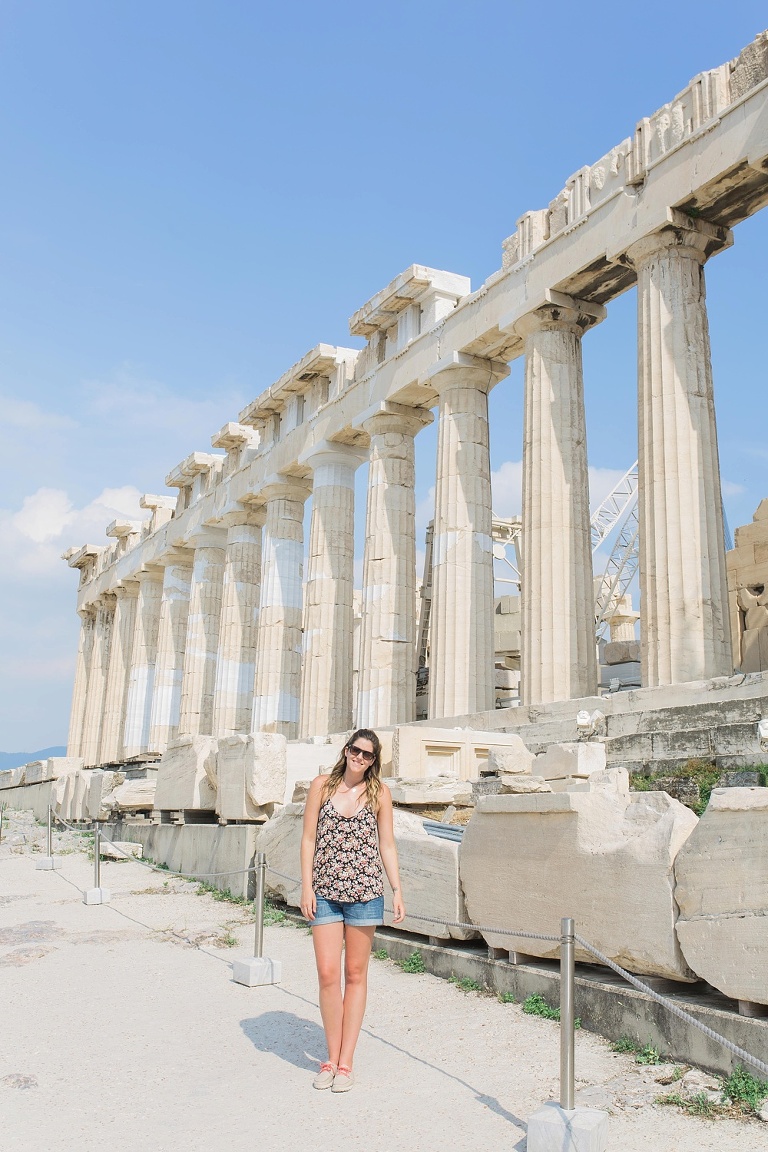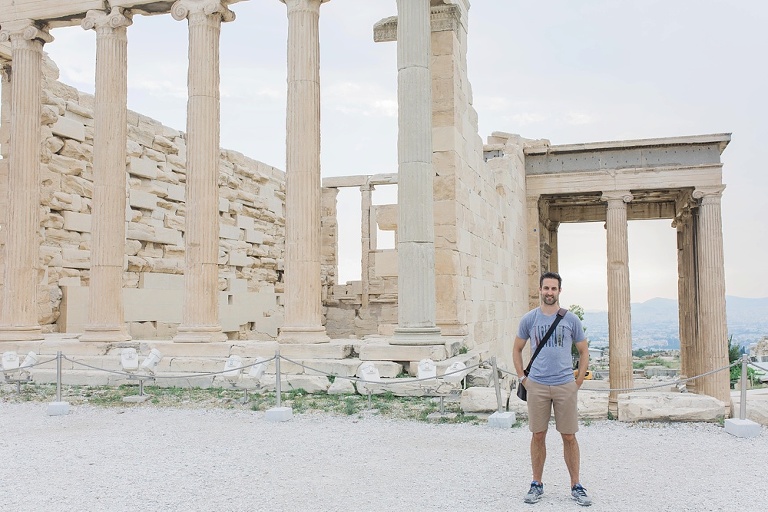 There is a lot of history in Athens and a ton of great sites to visit. The tour with George gave a great overview and some base knowledge to then go and really appreciate specific sites. The biggest one being the Acropolis, at the top of the hill in the centre of Athens. You can get a pass for multiple sites, including the Acropolis, Ancient Agora, Roman Forum, Temple of Zeus, and few other spots for 30 euros (to get into the Acropolis alone is 20 euros). The Acropolis Museum is a separate pass that is 5 euros, but totally worth it. We toured the Ancient Agora first, and then walked up to the Acropolis.
After spending some time in the Acropolis museum (on the top floor there is a short video you can sit and watch that tells you all about the Acropolis over the years), we headed home to get cleaned up before dinner. We had made an 8:00 reservation at Cinque, a really tiny wine bar near our hotel. There are lots of restaurants, and I don't think reservations are usually needed except this place only sits about 12 people and was always full. We enjoyed some Greek wines and charcuterie before carrying on for a drink and more food elsewhere.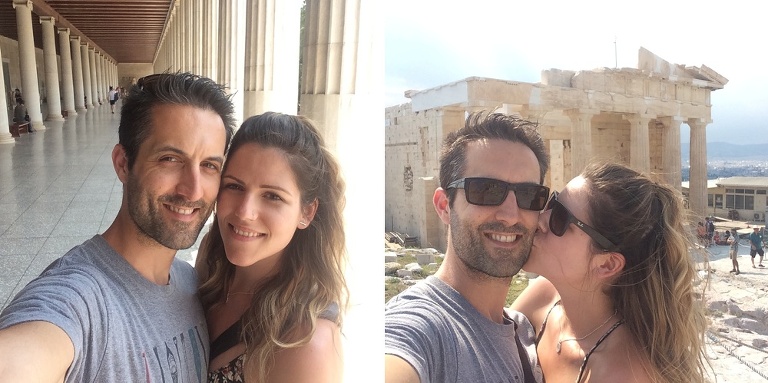 Our last full day in Athens started off rainy, but around noon wasn't coming down too hard. We threw on our rain coats and ventured out to the last spots on our to-see list. We started in the Montrasaki Flea Market – a series of small streets and alleys filled with shops. After grabbing some lunch, we made our way around the Acropolis to Syntagma square and the Parliament building. You can see the changing of the guard every hour and it is worth sticking around for if you are in the area. I would describe it as being a very interesting choreographed event with men in funny looking clog tap shoes – if that doesn't peak your interest than I don't know what would! We also stopped by the Temple of Zeus and went to the Panathentic stadium. For 5 euros you can tour the stadium and you get an audio guide that walks you through and explains the significance of the building design and tells the history of the stadium. There is also a hall inside that holds Olympic torches and official posters from past Olympic games.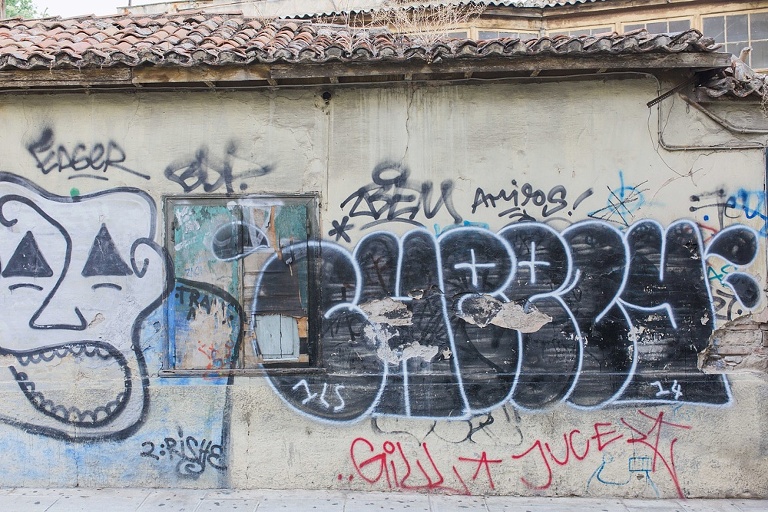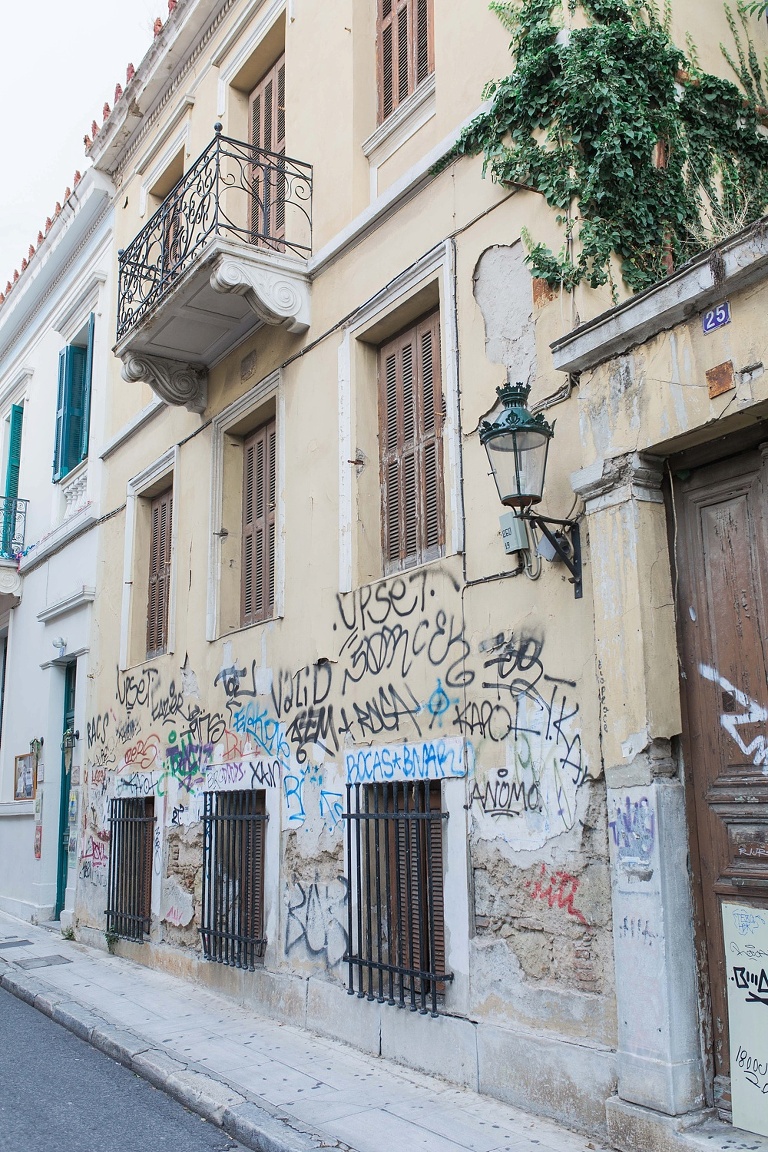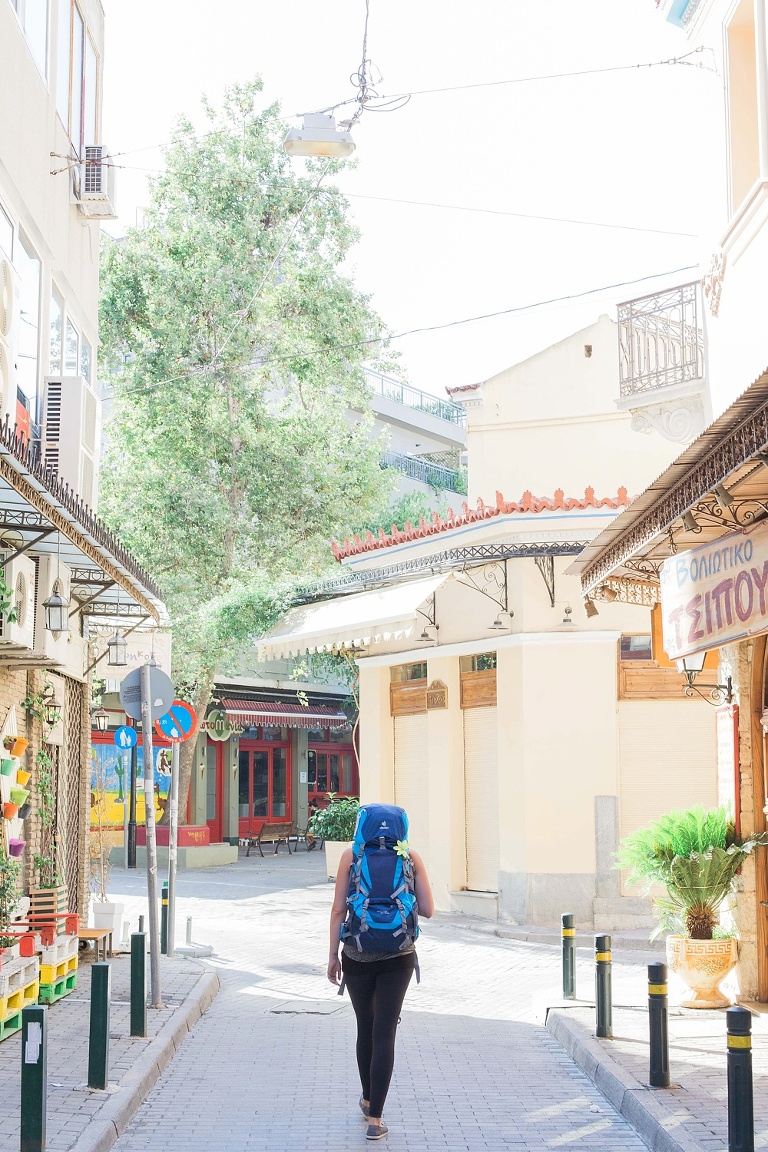 Our last night in Athens we wanted to really enjoy some authentic Greek food. We started with drinks and appetizers at a spot which was full of local Greeks (they say the best food is where the locals go). Then we headed to Avli, which was a hidden gem that we discovered with a bunch of googling and a keen eye. Hidden behind an almost un-marked blue door led to the restaurant seating inside the alleyway. The food was incredible and a perfect last Greek meal.
Getting back to the airport was painless from the Montoraski metro spot by train. We picked up some Skinos at duty free (a Greek liqueur that we had been served in Mykonos and both loved) and boarded our Air Canada flight back to Montreal.
There are few things that I would have changed about our trip. At the end of the 15 days I was ready to head back home. We had fit in a lot of different adventures, from beach lounging days, to intense hiking, to relaxing on our balconies and sipping wine, to taking in the culture and history of Greece. It was a beautiful country, filled with wonderful people, and I hope to make it back again someday.
xo Brittany