As imagined, our two week vacation in Greece this past summer resulted in a lot of photos to share. Instead of throwing them all in one post, I thought it would be more fun to break it down by place and share some of my top travel tips. To kick this series off, I am starting with my advice and suggestions for a four day vacation in Mykonos, Greece!
Mykonos is an island in the Cyclades group in the Aegean Sea. While planning our Greek trip, many people told us about it's summer party atmosphere, and spots like Paradise and Super Paradise with their happening beach parties into the early hours. A little research quickly revealed massive dance clubs attracting world-renowned DJs and iconic landmarks (including a row of 16th-century windmills above Mykonos town). To be honest, it was the photos of the beaches that landed it the first spot on our Greek adventure.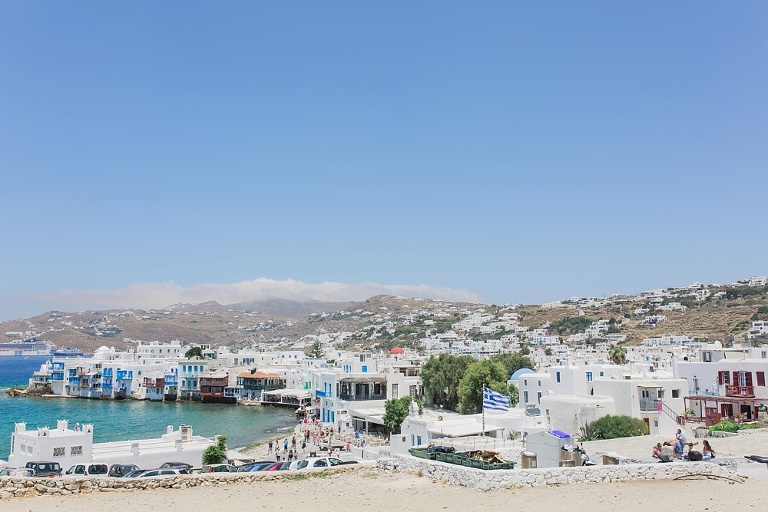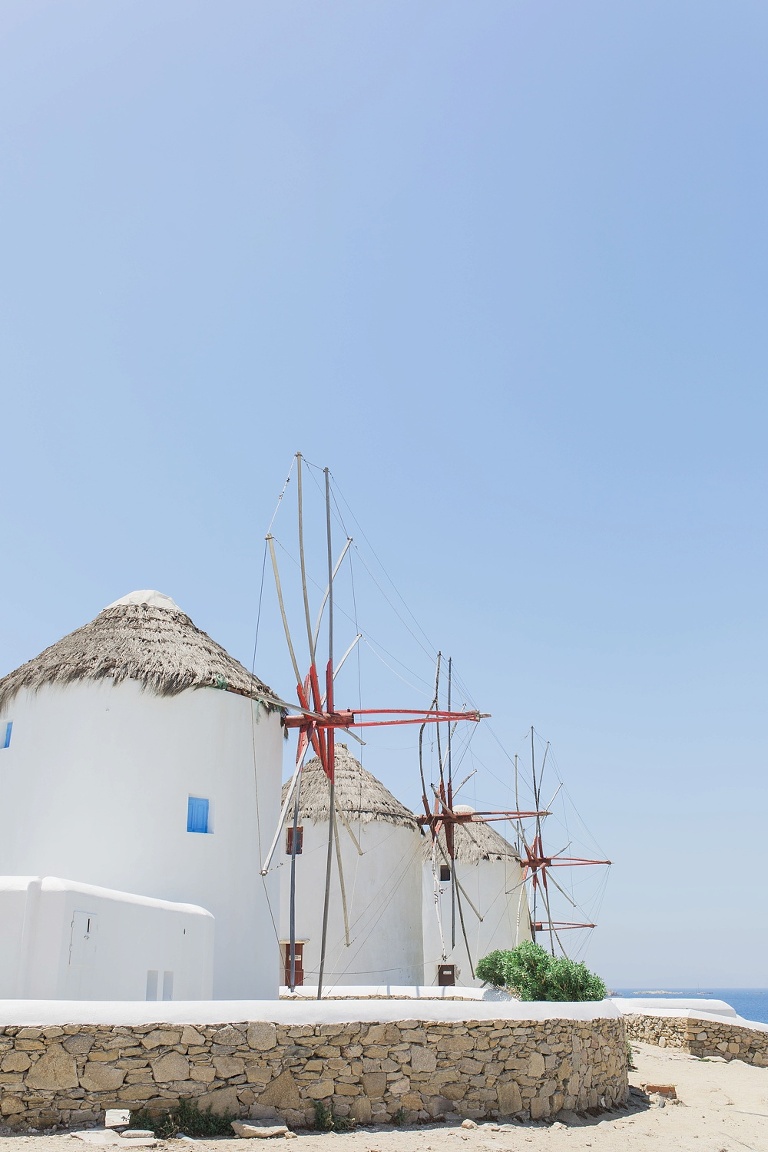 We flew from Montreal to Athens with Air Canada and then boarded a short flight to Mykonos with Agean Airlines. There was a little mix up with our bags though and it seems our packs decided to chill out in Athens a little longer. The airline staff at the small Mykonos airport were very nice and submitted the baggage report pretty quickly. There were two more flights coming from Athens later that evening, and they were optimistic that our bags would come on one of them. Sure enough they arrived around 8:30 that evening and the airline arranged to have them delivered to where we were staying.
We had booked 4 nights at Agia Anna (through Air BnB) and it was beyond what we expected! It was literally right on the beach and it was entirely family run! George (the father) picked us up at the airport; Dimitris (one of the sons) got us all checked in, gave us info about the area and getting around the island; Nicola (the other son) seemed to run the bar and small restaurant, he cooked Brent a delicious omelet every morning and brewed up some awesome double Greek coffees; we didn't get a chance to formally meet Marsoula (the mom), but we did see her around a few times.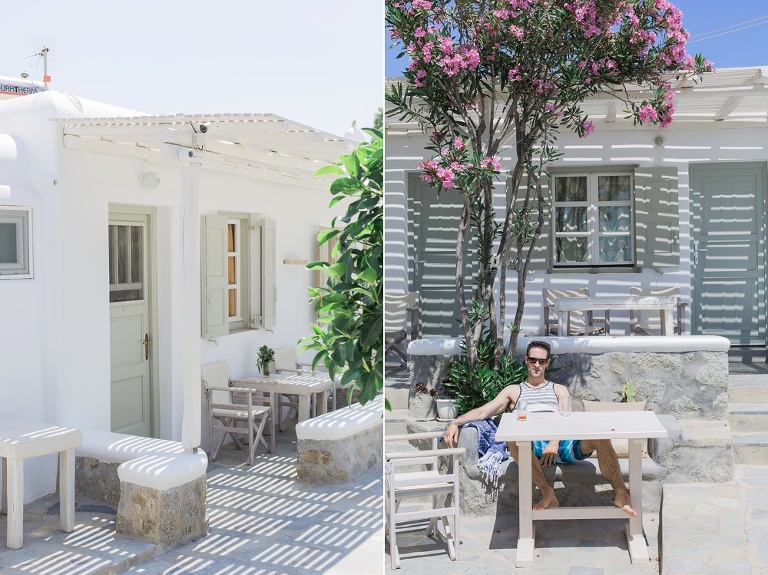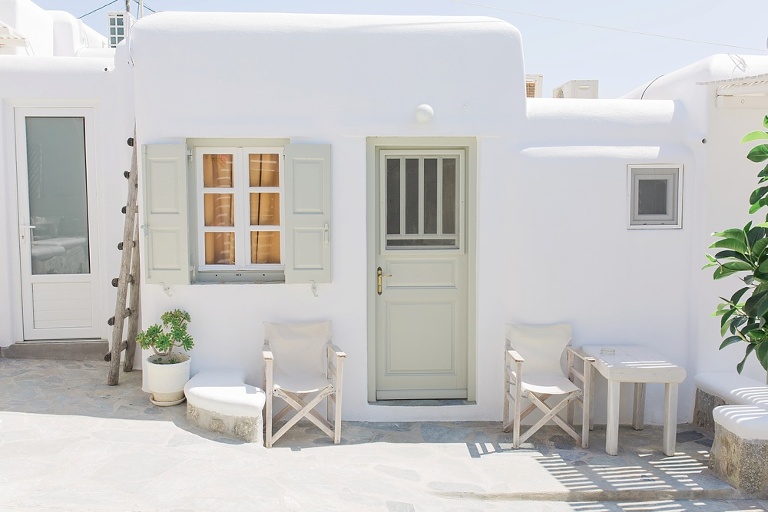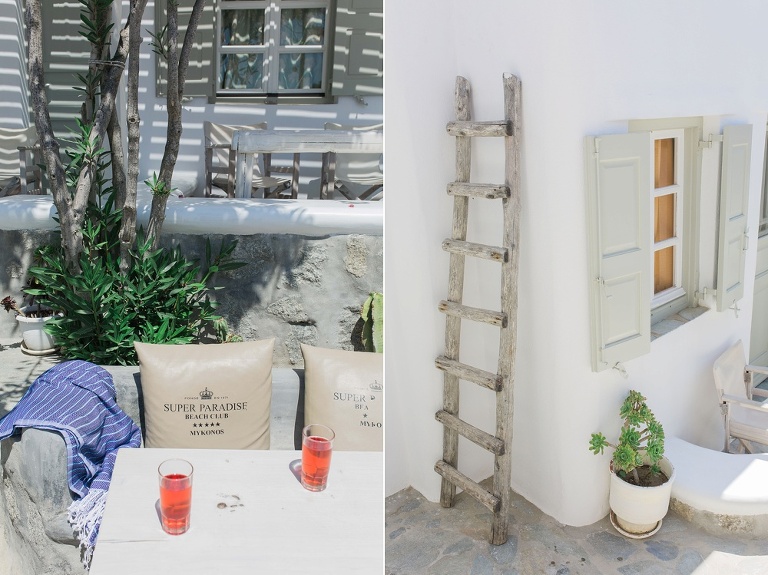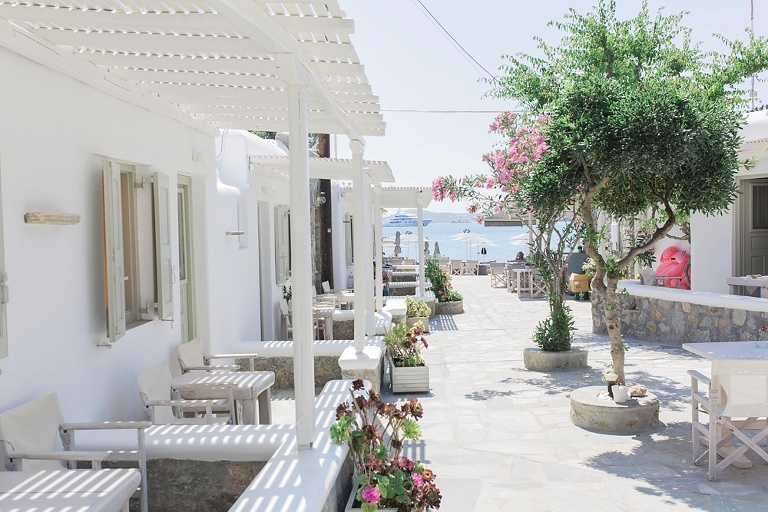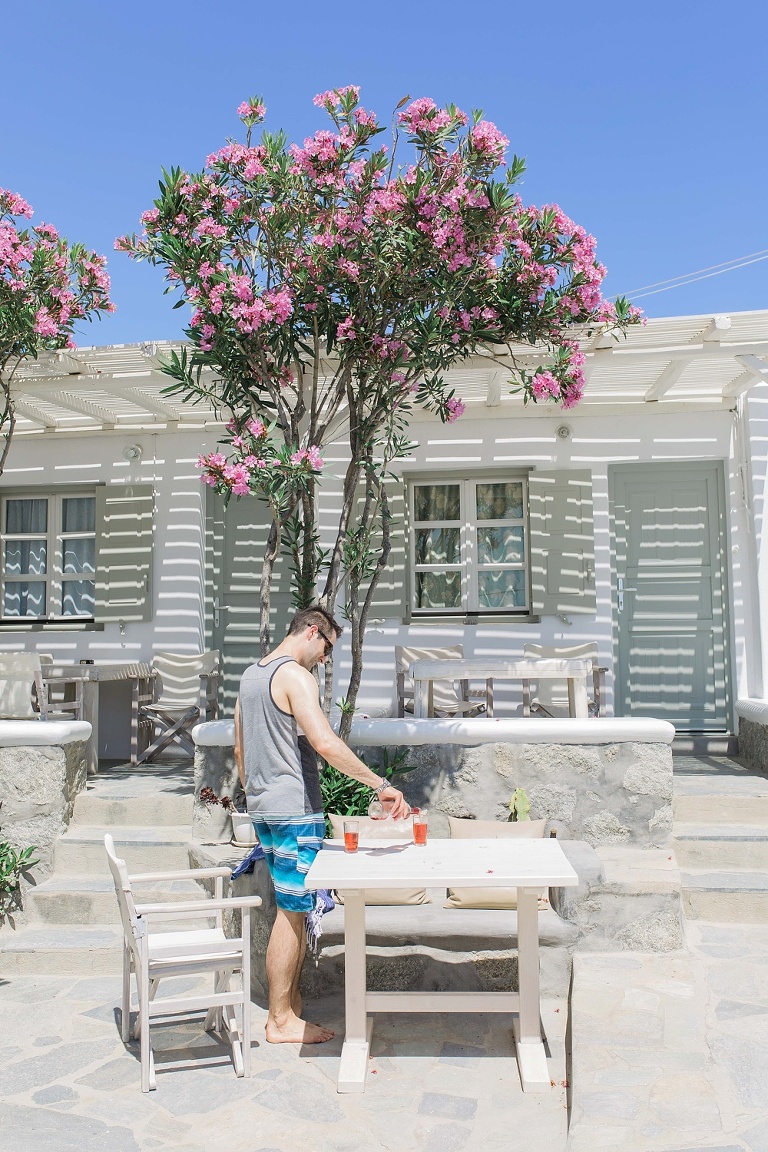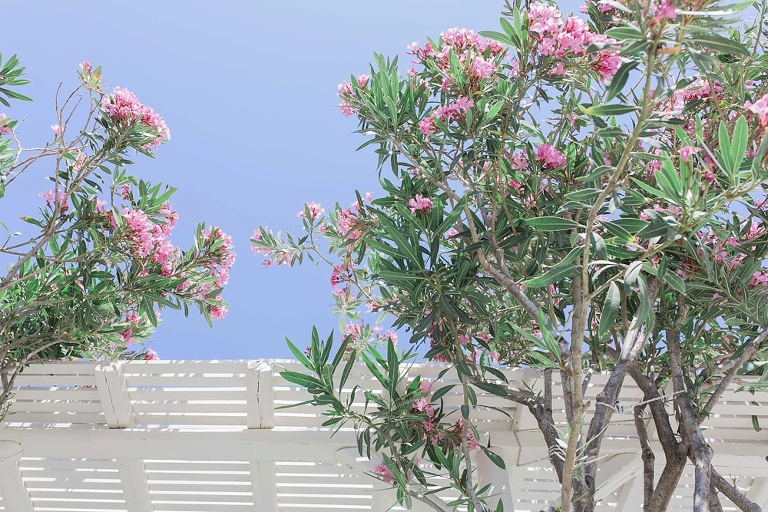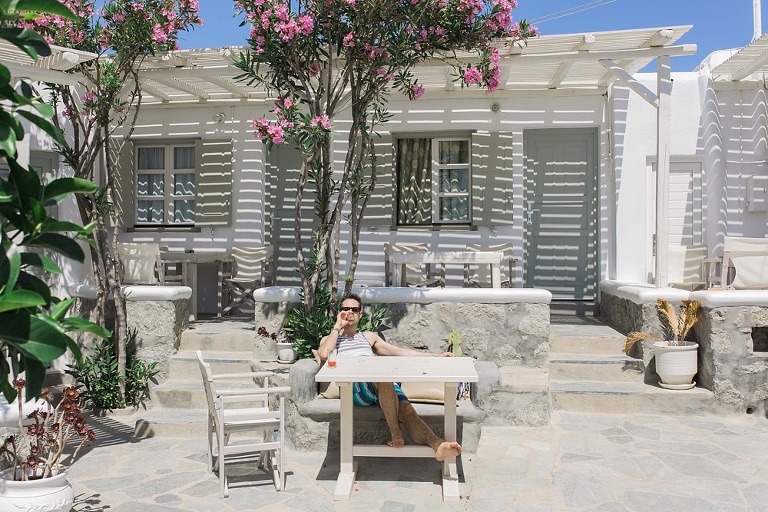 The hotel had its own beach front and a ton of lounging chairs and umbrellas all lined up, but it was also right in between Paraga beach and Platis Gialos beach – which were both pretty lively with restaurants, bars, and beach action. The real parties happen at Paradise Beach and Super Paradise. We made friends with two Australians at our hotel and the four of us spent an afternoon and evening at Super Paradise. We tried taking the water shuttle that runs between beaches, but it proved it be unreliable. We saw three of them drive right past Paraga Beach while we waited and then the only one that stopped said they were full. We eventually negotiated a private boat (which was really cool) to drive us to Super Paradise – not the most economical option, but it did the trick. We booked chairs in the 3rd row back from the water and made friends with our lovely waitress Aleaxandra (who we ended up partying with all night). You can book 2 lounging chairs and an umbrella for 20 Euros – so we pretty much posted up there for the day. The beach party starts at 4:30 every day, but it was a pretty tame crowd the night we were there. The half-naked women they show dancing on the posters around town are not just a trick to lure you in – they are legit a part of the festivities. Since our foursome became the life of the party, we made friends with all the women working and often our table top became the centre of the dance party. The bar bill was not small, but the memories were worth it and the pictures are not appropriate for this blog.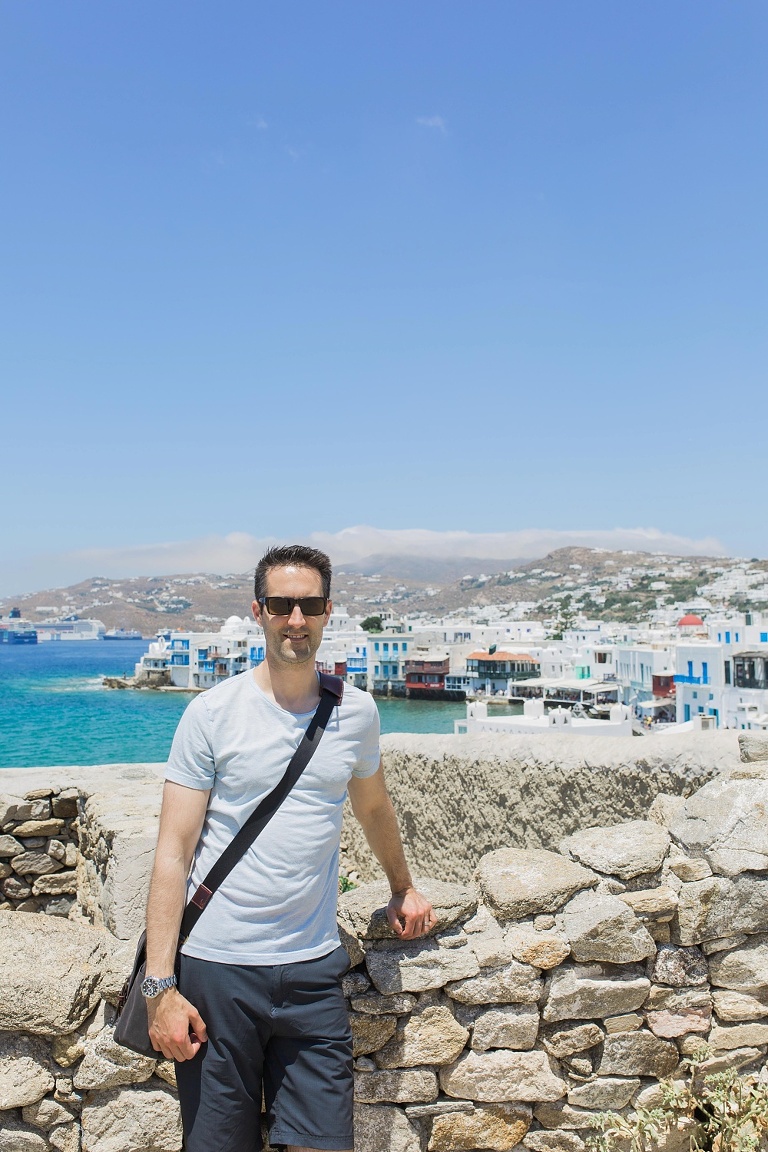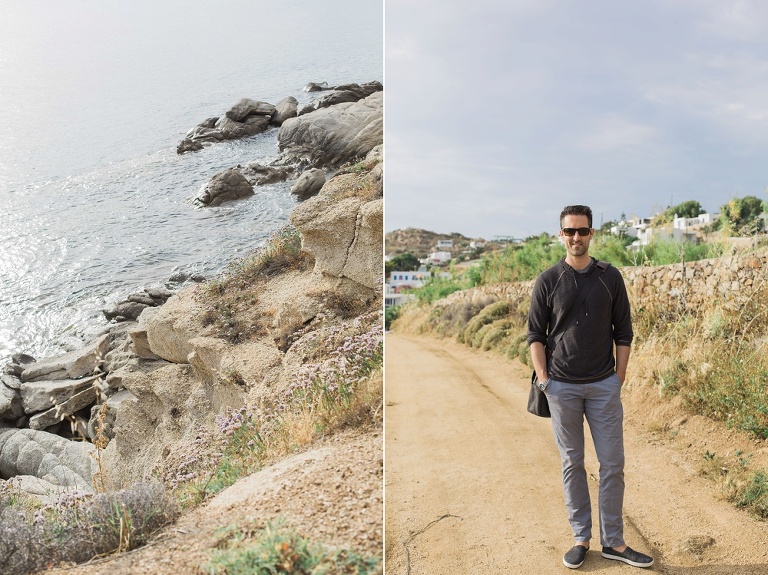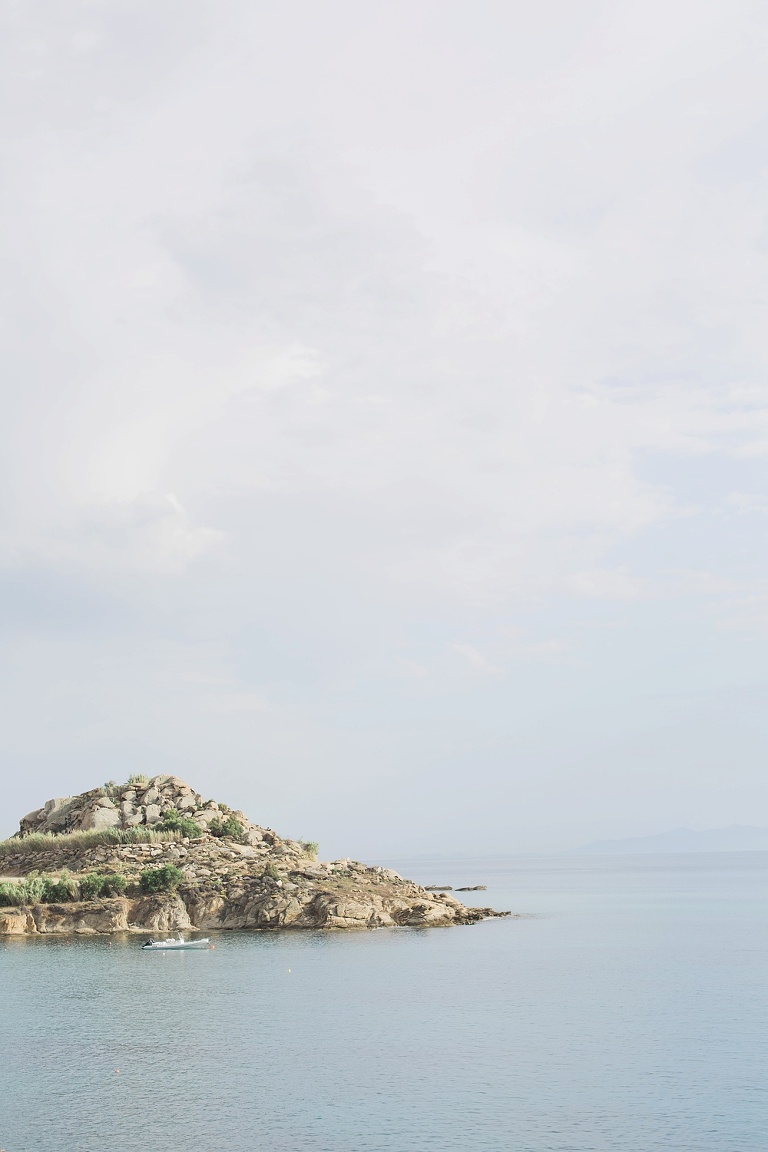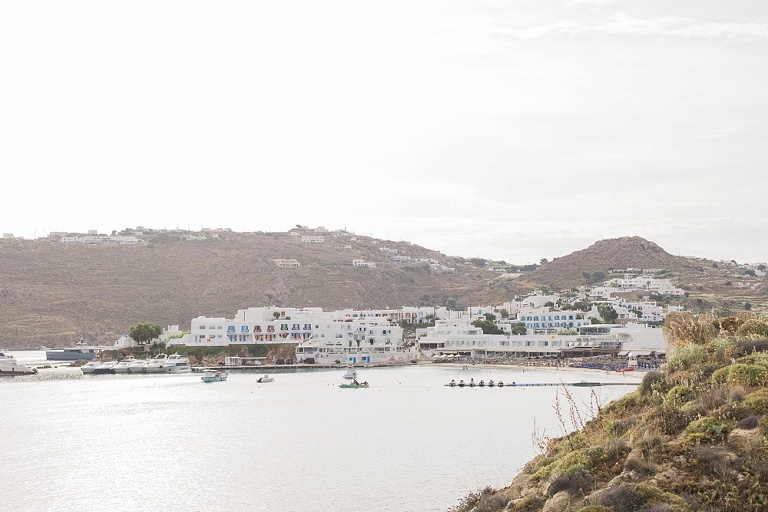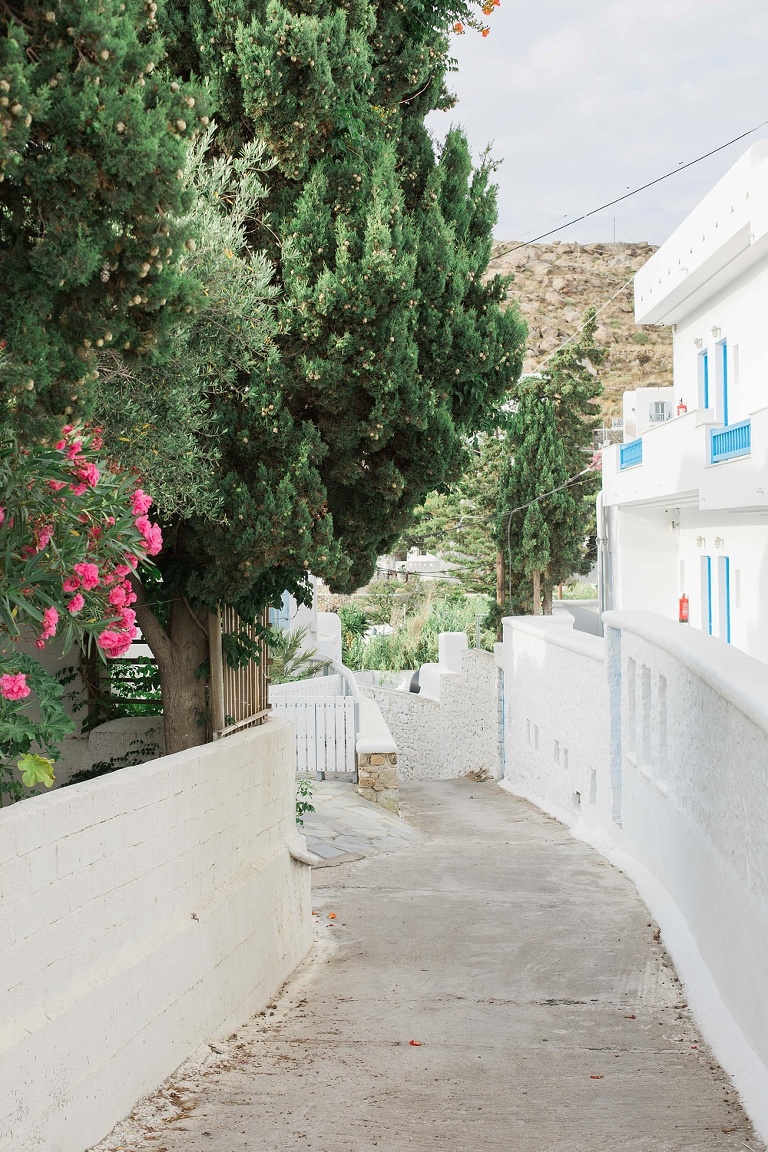 Navigating around Mykonos isn't easy – since there are no road names and often streets lead to nowhere. You can easily rent four-wheelers or skooters, but the roads are pretty narrow and slightly terrifying at times – I still remain is awe of the bus driver who made it around some of the tightest corners. We opted for public transit or walking while we were there. It was easy to do a day trip to Mykonos Town by bus (about 2 Euros each way) and there are stops at a number of the beaches. While in Mykonos Town you need to check out the windmills and Little Venice for sure. The twisting and turning streets around Little Venice were a favorite for me. They were filled with cute little shops, restaurants and yummy gyros spots. It gets busy down by the port where the cruise ship passengers unload for the day, but still worth a look see.
Having visited other islands (Santorini and Crete) after Mykonos, I can say that the beaches at Mykonos were fabulous! I was glad that we spent time chilling beachside while in Mykonos. While planning our trip a number of people warned us that Mykonos was a party island that was a bit crowded, but that wasn't our experience. Our trip was early June, so maybe the summer vacationers hadn't quite landed yet, but we loved our time on this small island. Be warned that nude sun bathing is absolutely a thing – so don't be surprised if you see more than you are used to while lounging in the sand.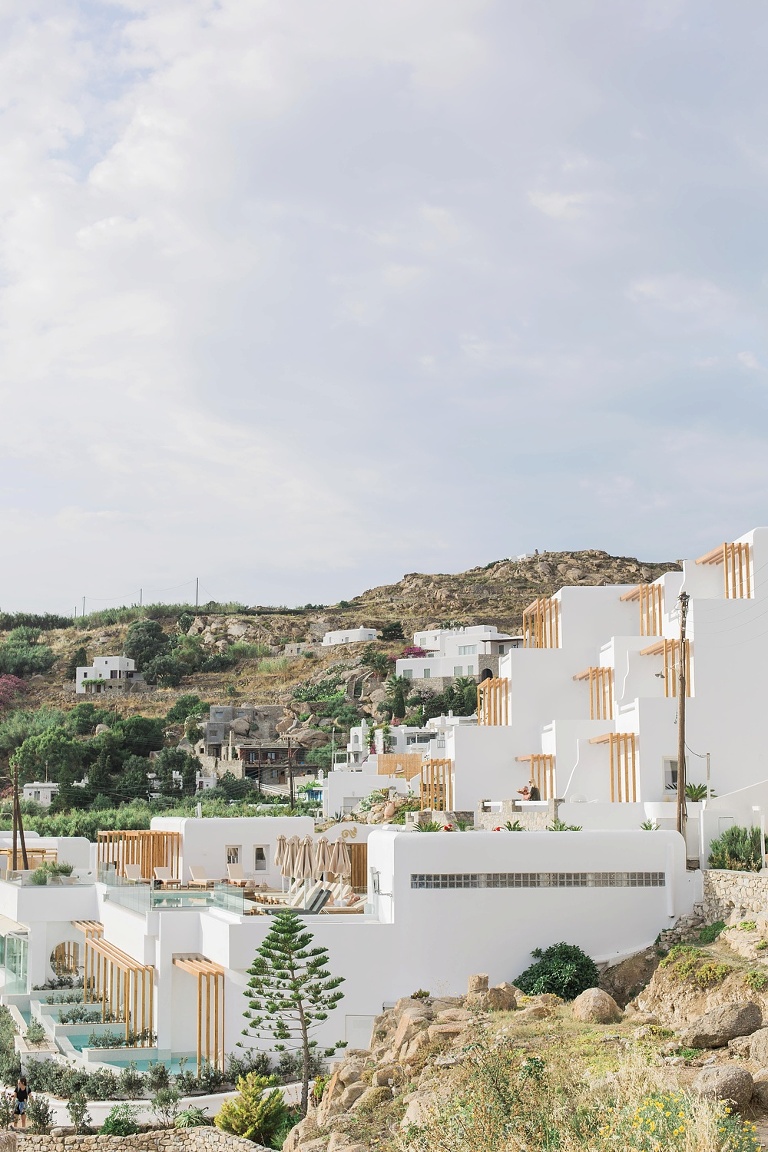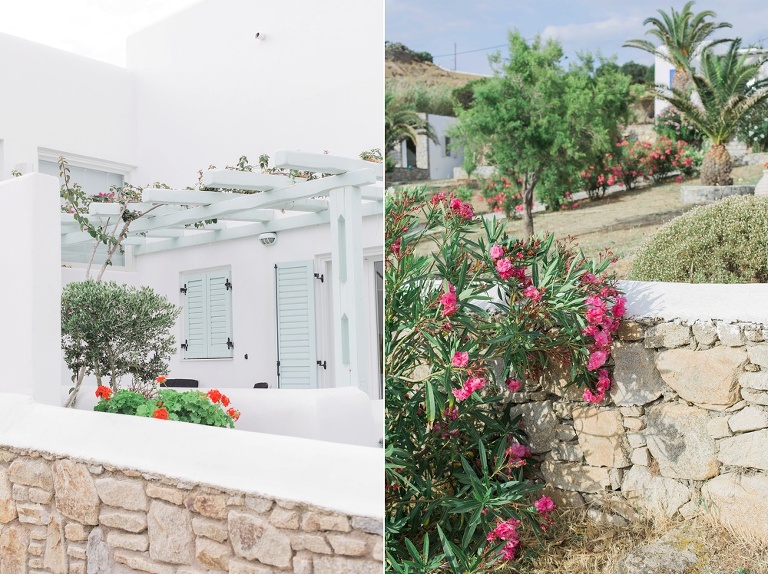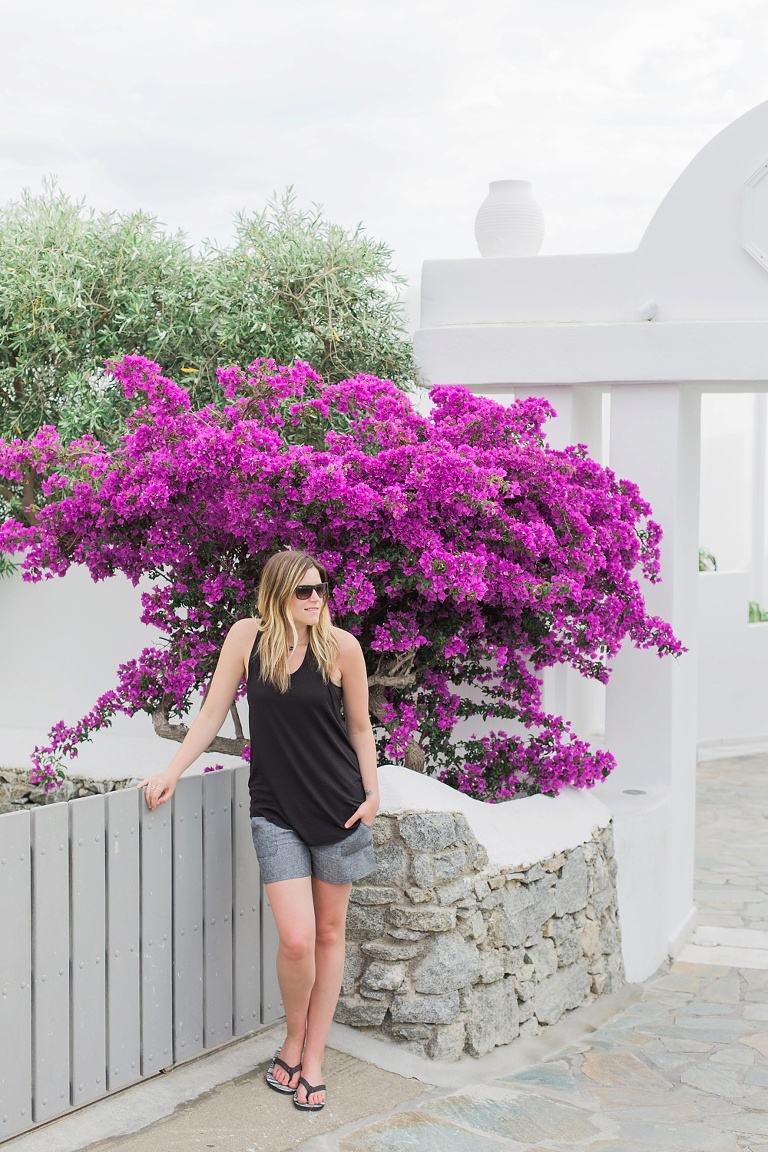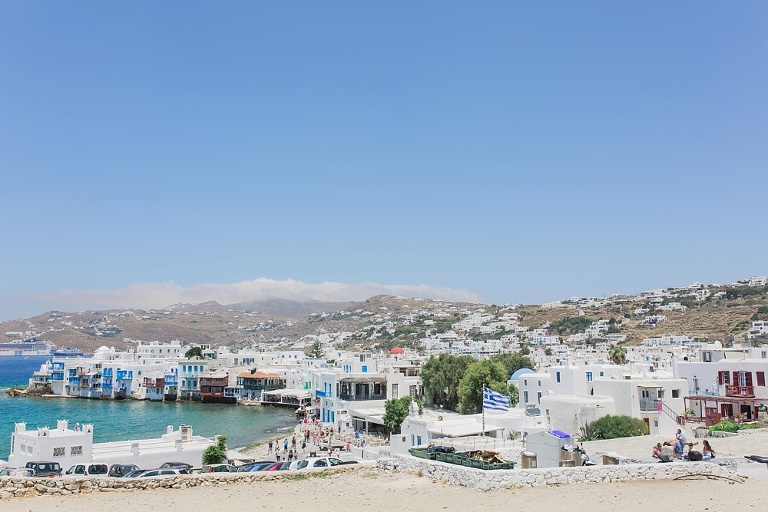 Choosing a favourite spot on our trip is nearly impossible. Each location offered something so different and it is hard to compare. I can confidently say that Mykonos did not disappoint and I would recommend it to anyone adventuring to Greece.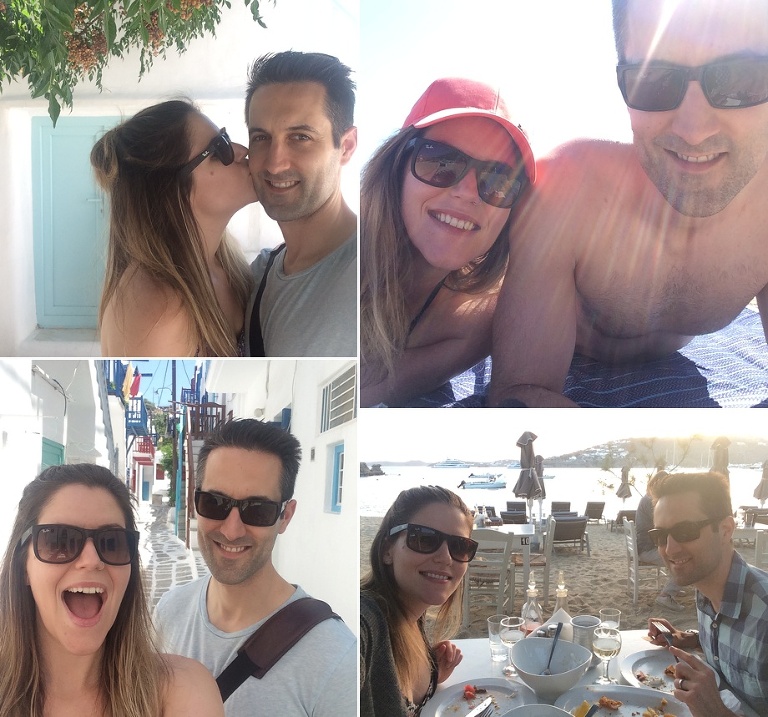 xo Brittany