When Brent and I would talk about places to travel, I would routinely tell him that I wanted to visit the places where they take the screen saver photos. You know the ones with the stunning seaside views, rock faces that drop straight down into the water, and tiny white houses that climb their way up the cliffs and tuck away between little walking paths carved into the stone. It was obvious that no trip to Greece could skip the views of Fira and Oia on Santorini. I already shared about our time in Mykonos, and today I am sharing my advice for a four day vacation in Santorini, Greece.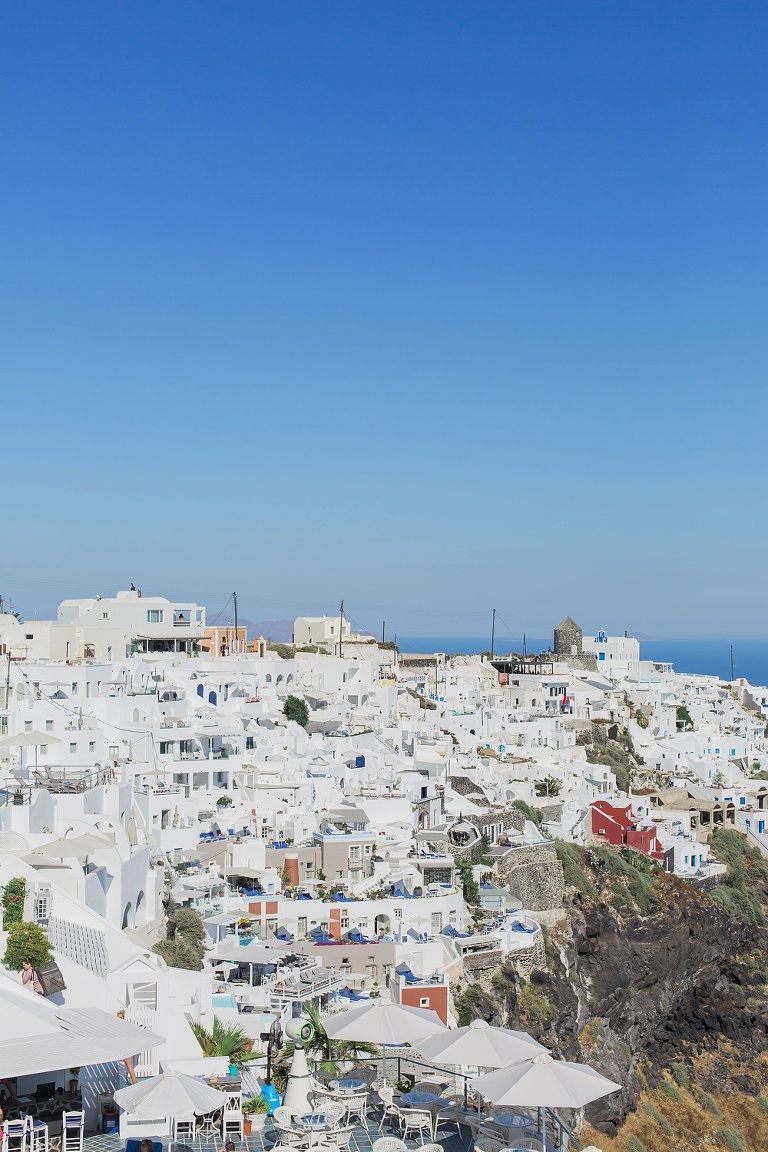 We stayed just a short walk outside Fira, the Island's Capital, in the small town of Imerovigli, perched up high overlooking the caldera. We were blown away by our accommodations at Mero Vigla Studios which we booked through Air BnB. It was a studio apartment located right by the Maltese Church. Our balcony didn't have a sunset view, but it did give a magnificent view of the caldera with Imerovigli and Fira perched above. It seemed to be the picture perfect spot, since we saw so many photographers walking brides and grooms out to the ledge just below our balcony to get a shot of the couple with the view of Fira in the background. Each morning we sipped coffee and ate breakfast admiring the view from our little balcony table and it was perfection.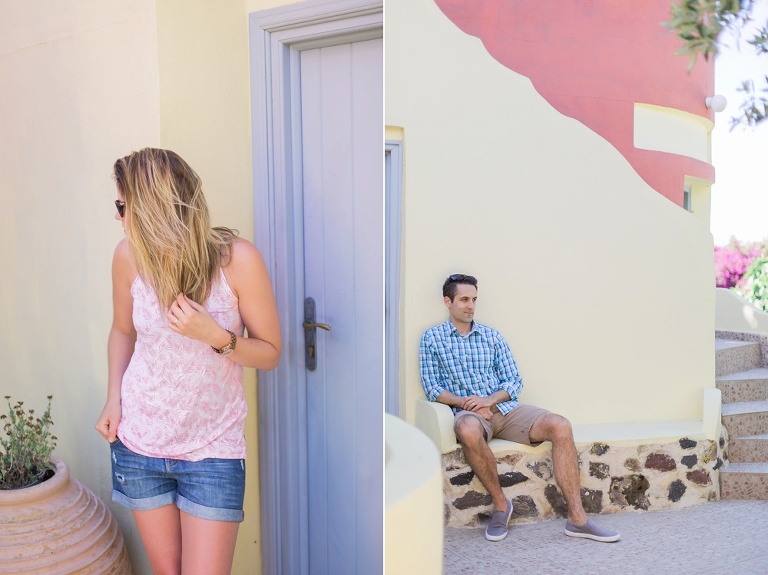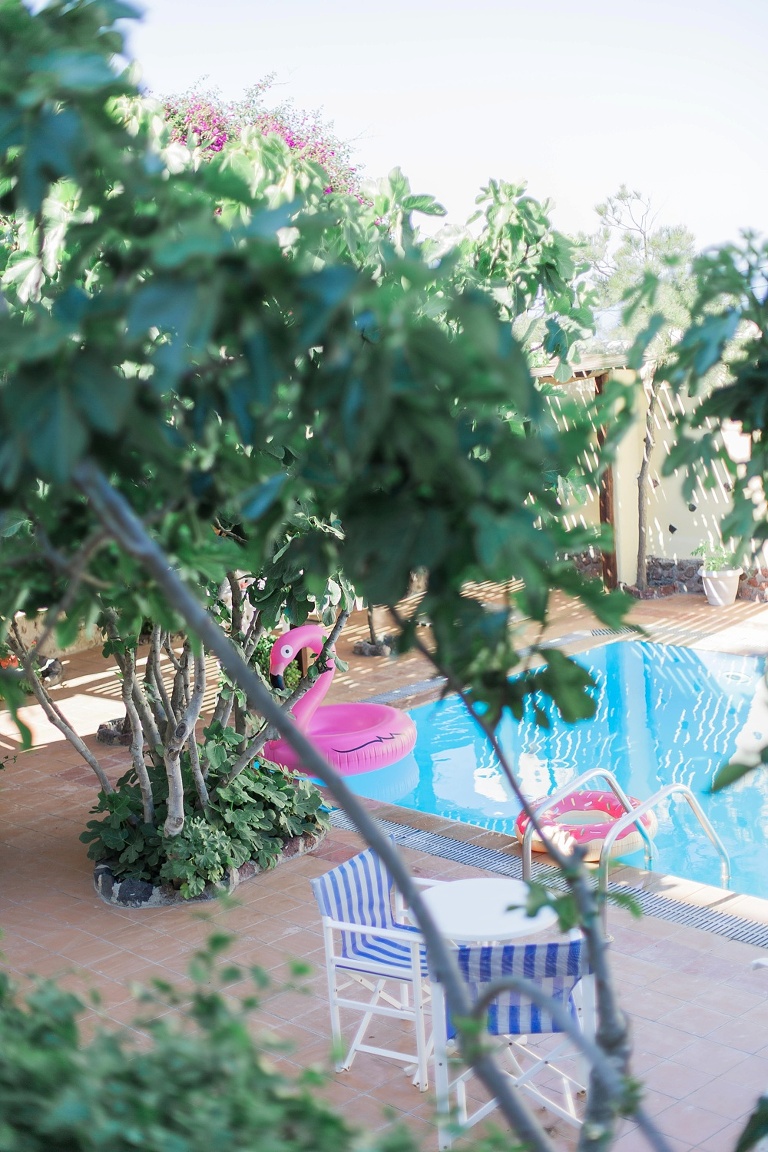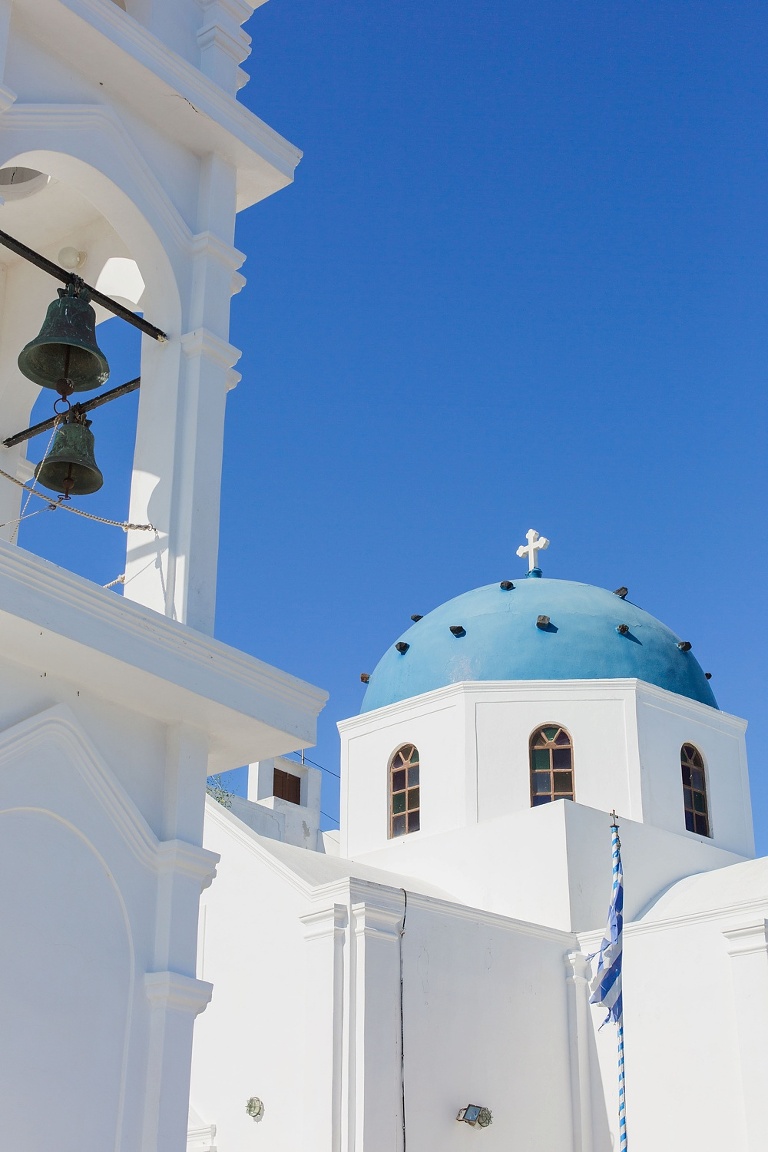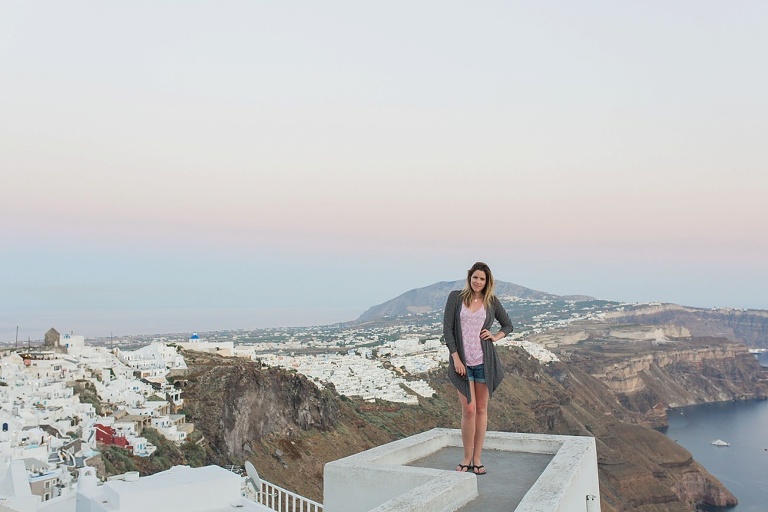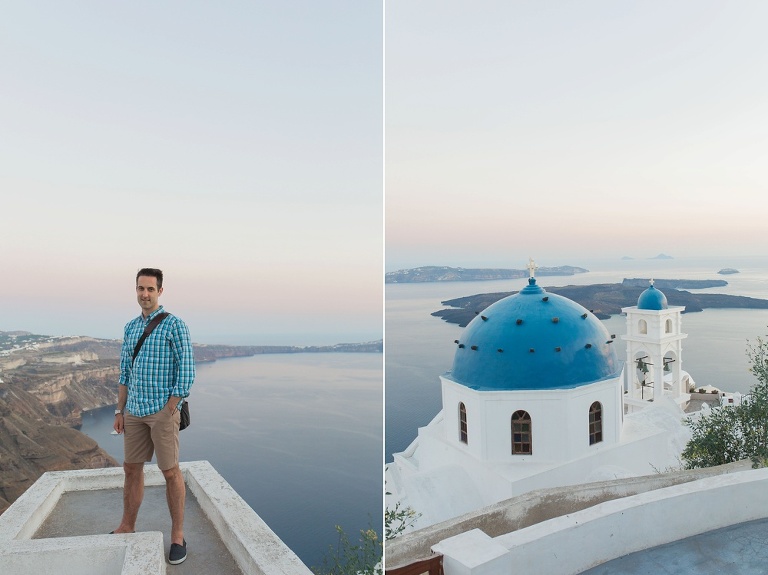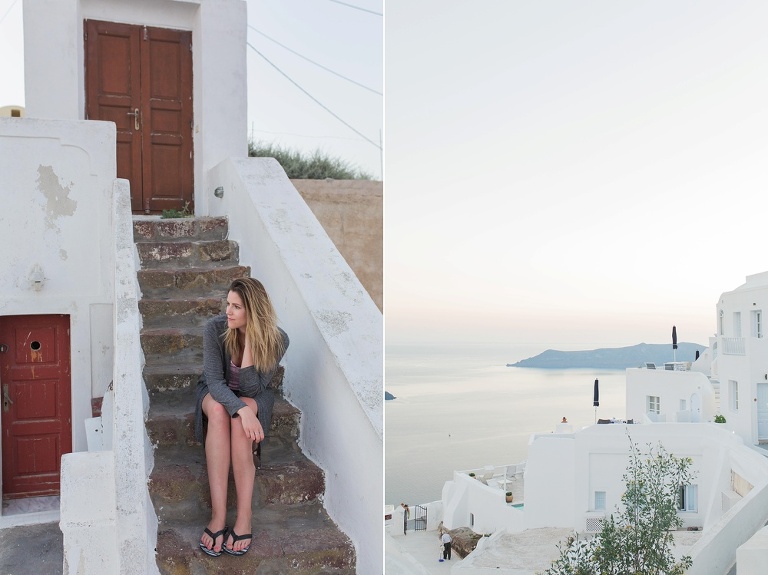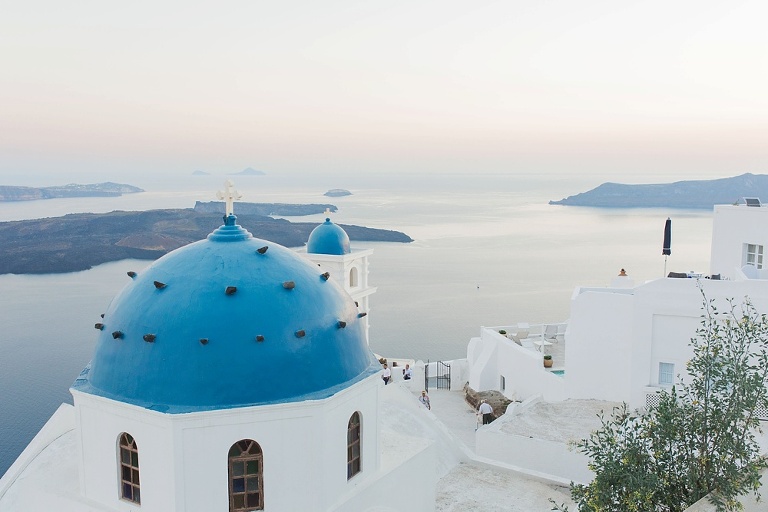 There is a path that leads from Fira to Oia (pronounced eye-ah) along the caldera edge. It is rough terrain at some parts and I would not suggest starting it in flip flops in the highest heat of the day (we spotted a few people who had this brilliant idea). We were told it is about 10 km and takes 2 hours and 30 minutes to get from Fira to Oia. We started close to our hotel in Imerovigli (which shaved off about 15 minutes) at 9:20am and arrived in Oia at 11:25. We had a 2 hour goal, but the fact we stopped for a billion pictures really slowed us down. As with a few other places in Santorini, you can pay a few euros to catch a donkey ride for parts of the trail, but we were keen to walk the whole way and the donkeys look sad, tired, and hot and it seems cruel to me. Just my personal opinion, but like the horses in central park, using animals to transport tourists for entertainment doesn't sit right with me. For a small part of the path you have to walk along the main road, but mostly it is along the caldera and through the rocky hills. You get spectacular views of Oia, and then Fira and Imerogivli once you come around the other side. It is so worth the effort and memories, but remember to bring some water and I suggest some walking shoes!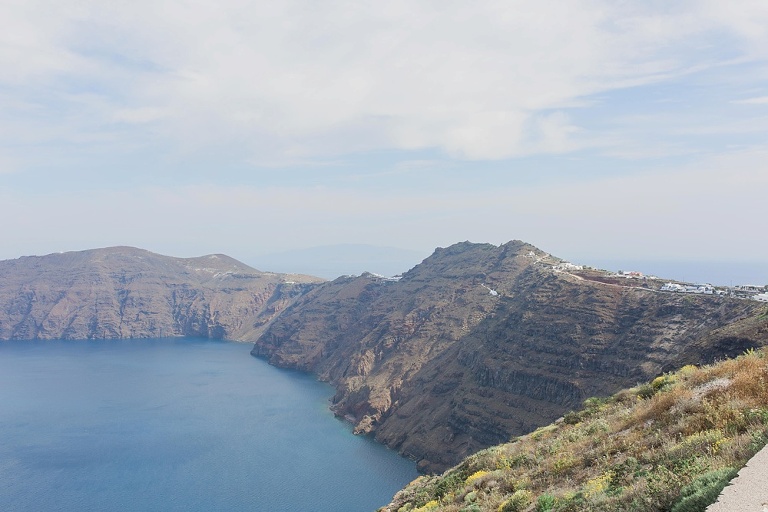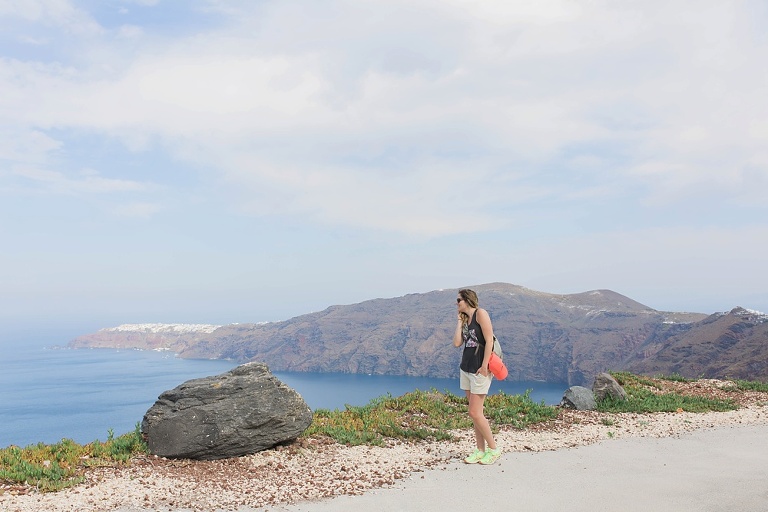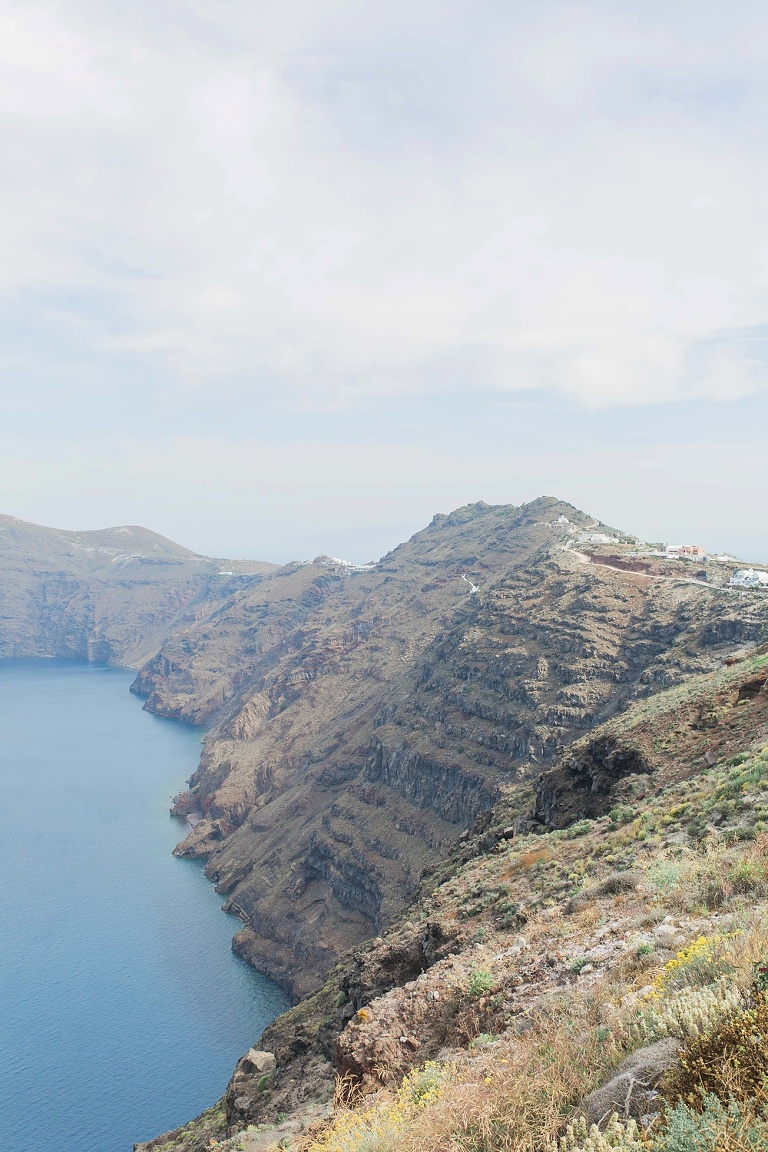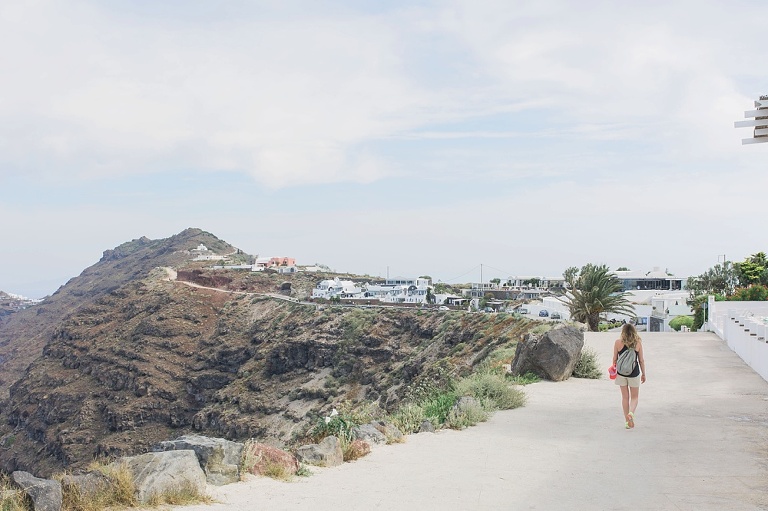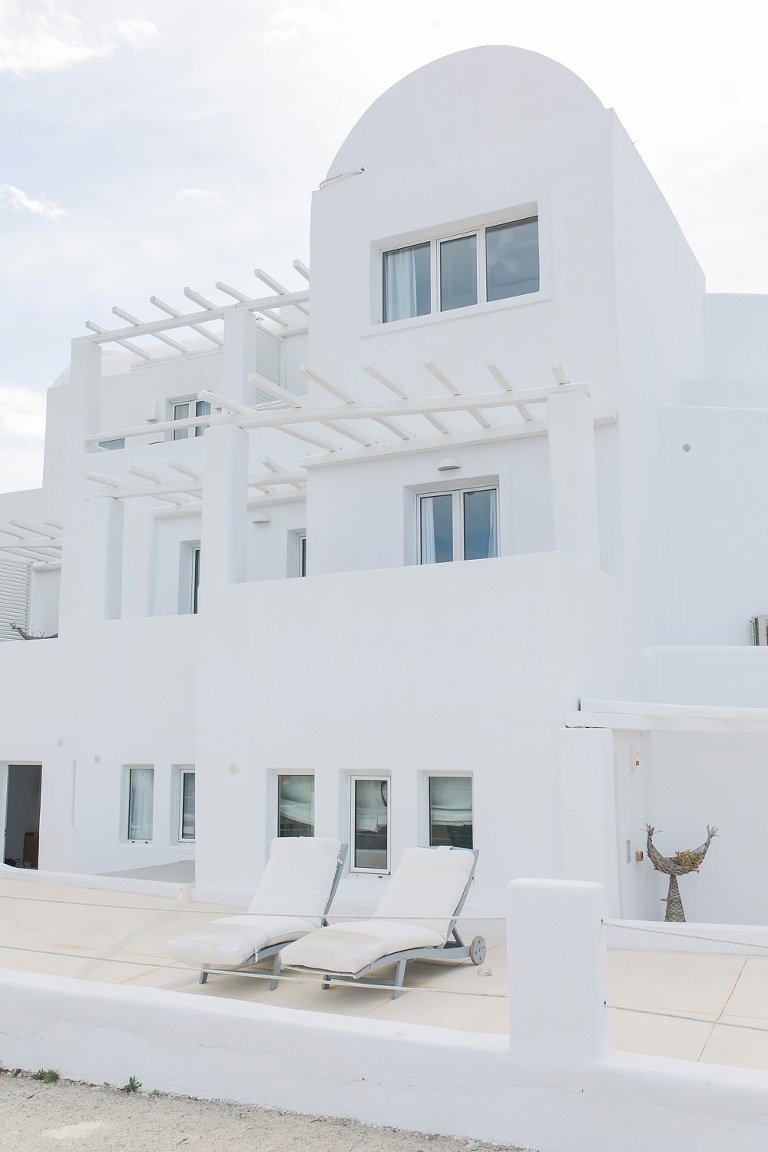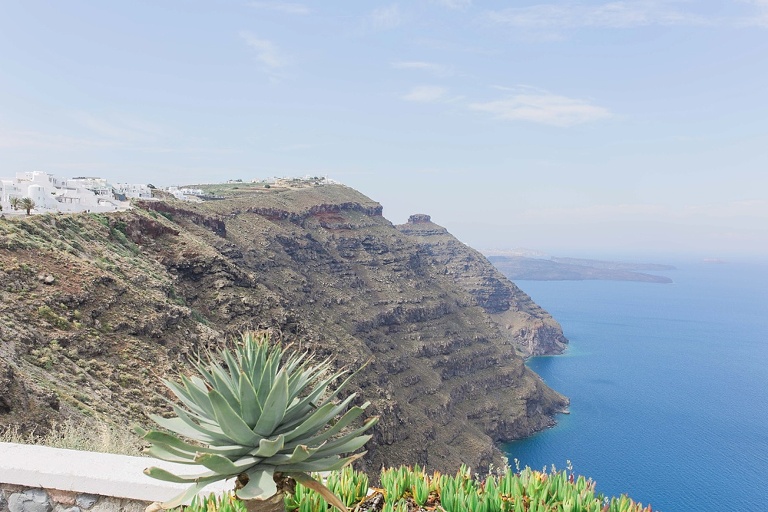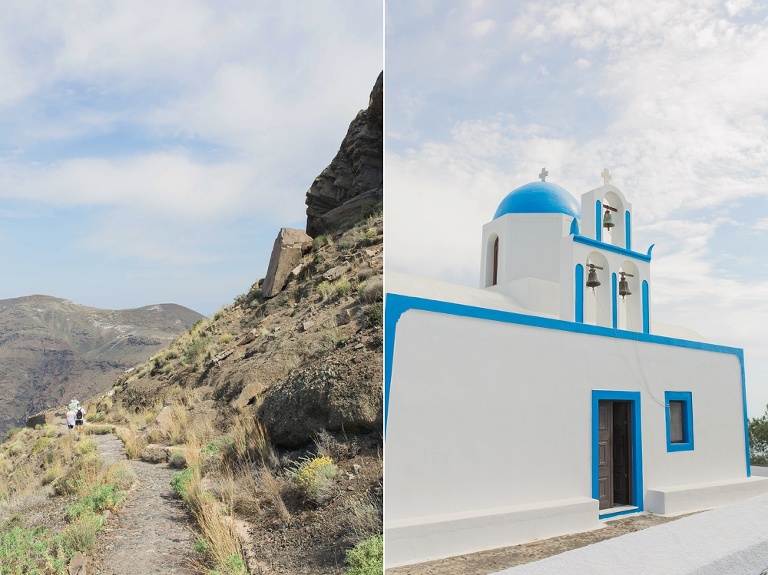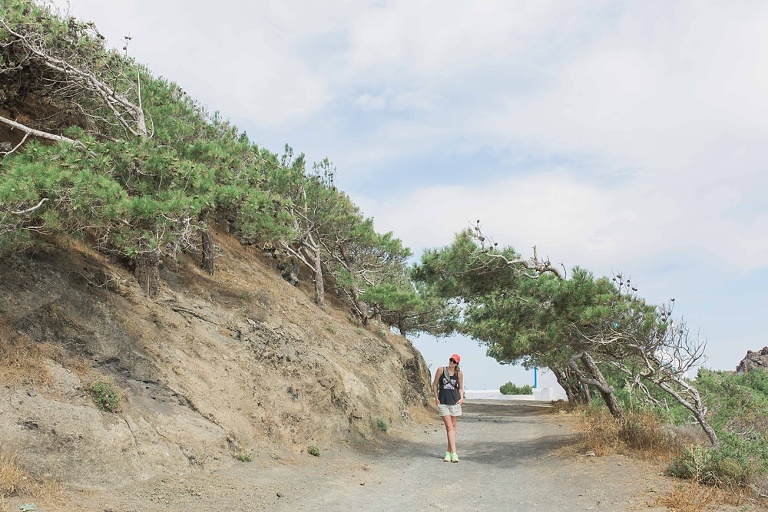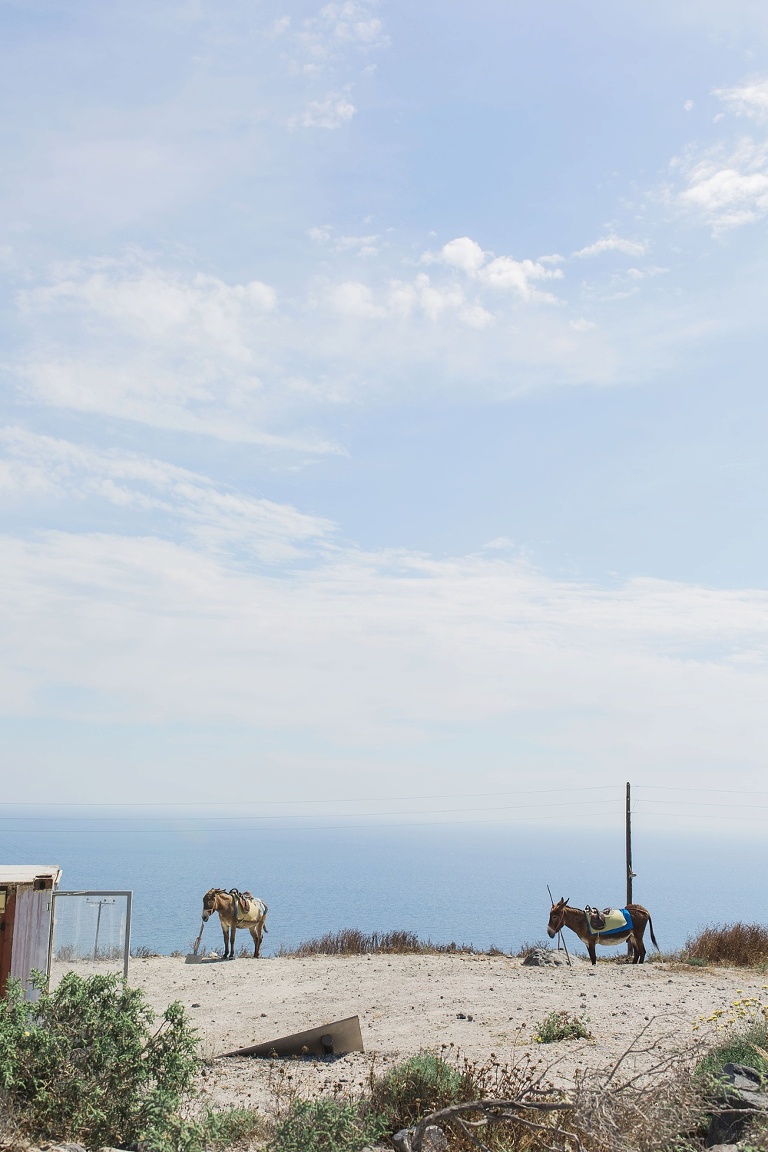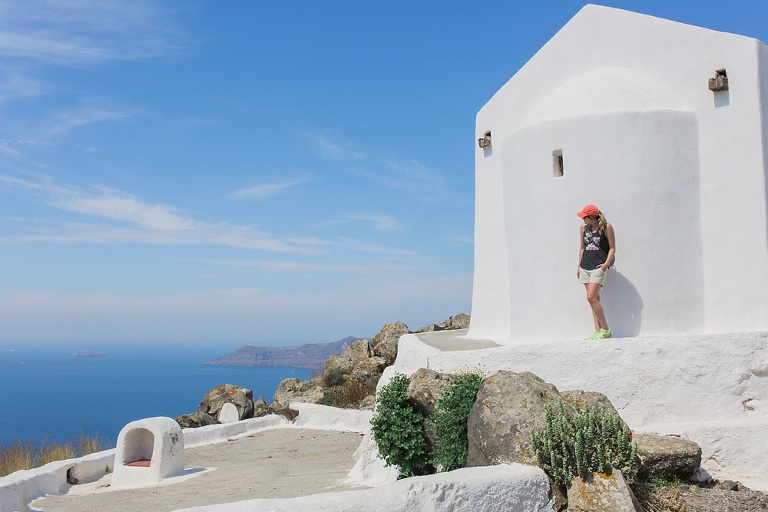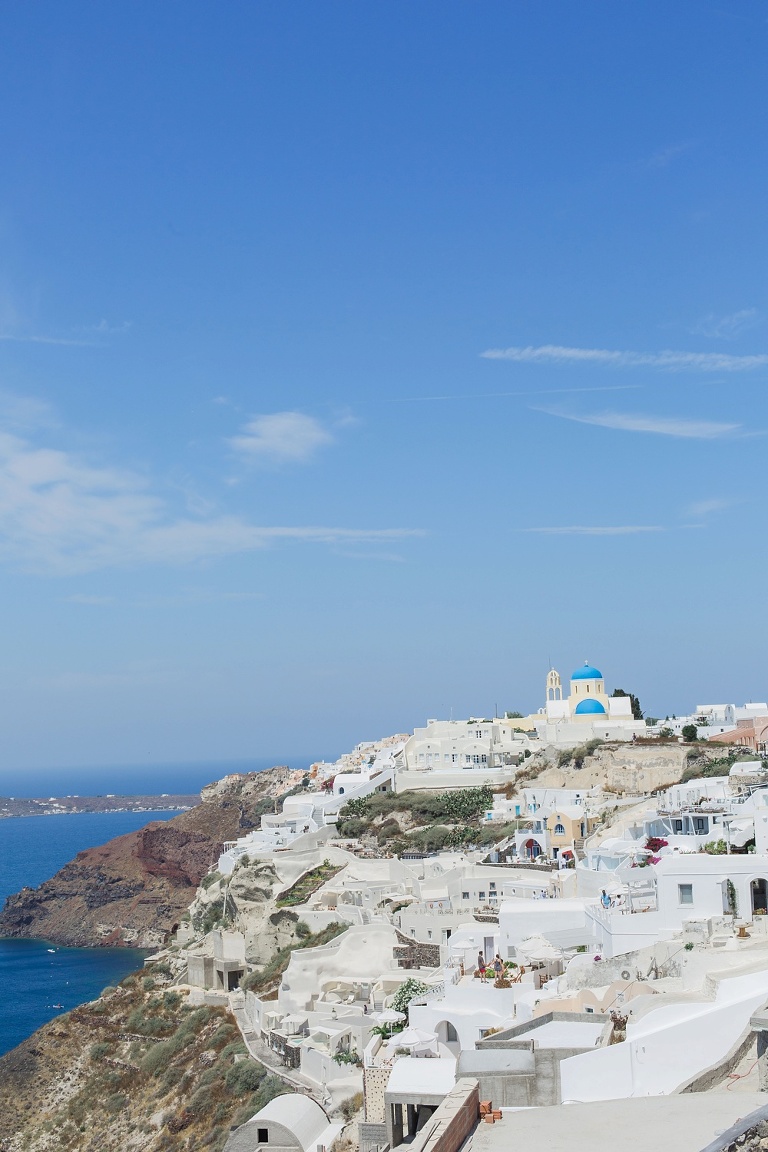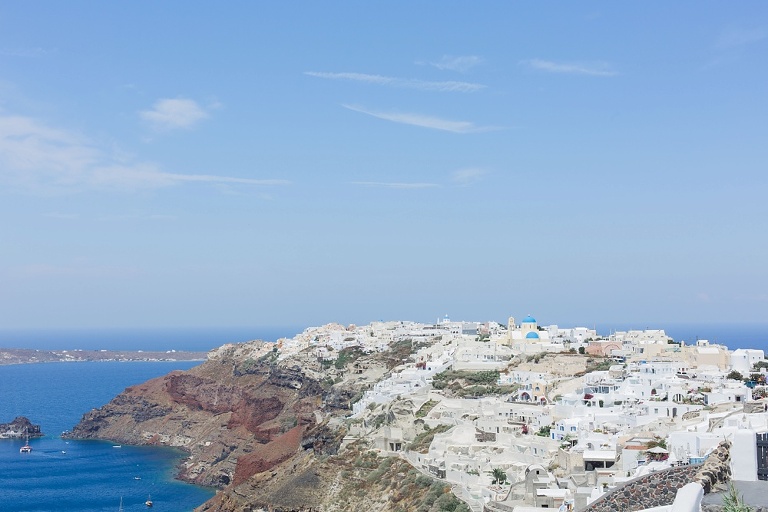 The sunset in Oia is a must-see, although one of our favorite sunsets was from a small restaurant along the caldera in Fira (Mama something). Reservations are ideal if you want prime seating anywhere with a sunset view, but I should admit that we lucked out with our sunset dinners in both Fira and Oia. We arrived just before the places started to fill and managed to score some prime seating. I don't believe our lucky breaks are the norm though, so make a reservation if you really have your heart set on the watching the sun sink below the horizon while enjoying your Souvlaki platter.
It is pretty simple to catch the bus to Oia from Fira and Imeroglivi. It is 1.80 euros each way and you can pay on the bus. They use pretty big coach busses (how the hell they make some of the corners is beyond me) and they have air conditioning and are not sweltering hot which is awesome after a toasty day under the sun in Oia. There is one main bus stop in Oia and the bus schedule is posted and runs fairly frequently. During prime time the bus may fill up, but you can just hang out and wait for the next one sipping a café freddo if you so desire.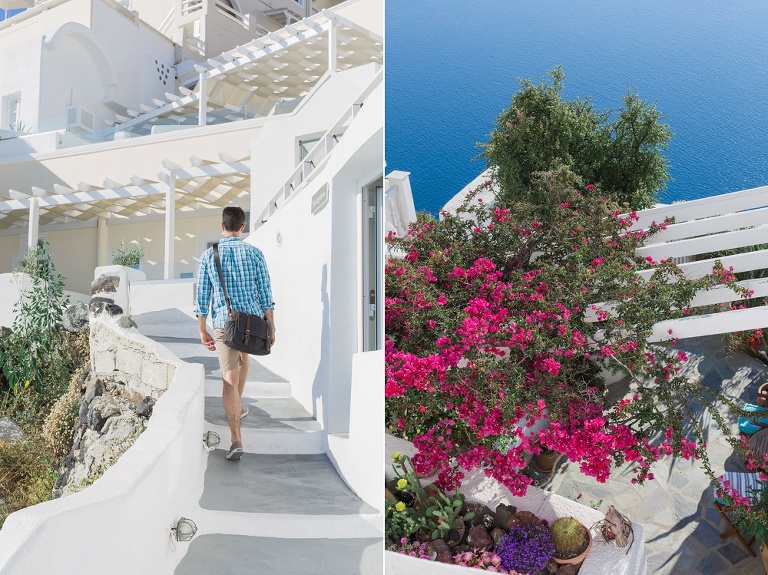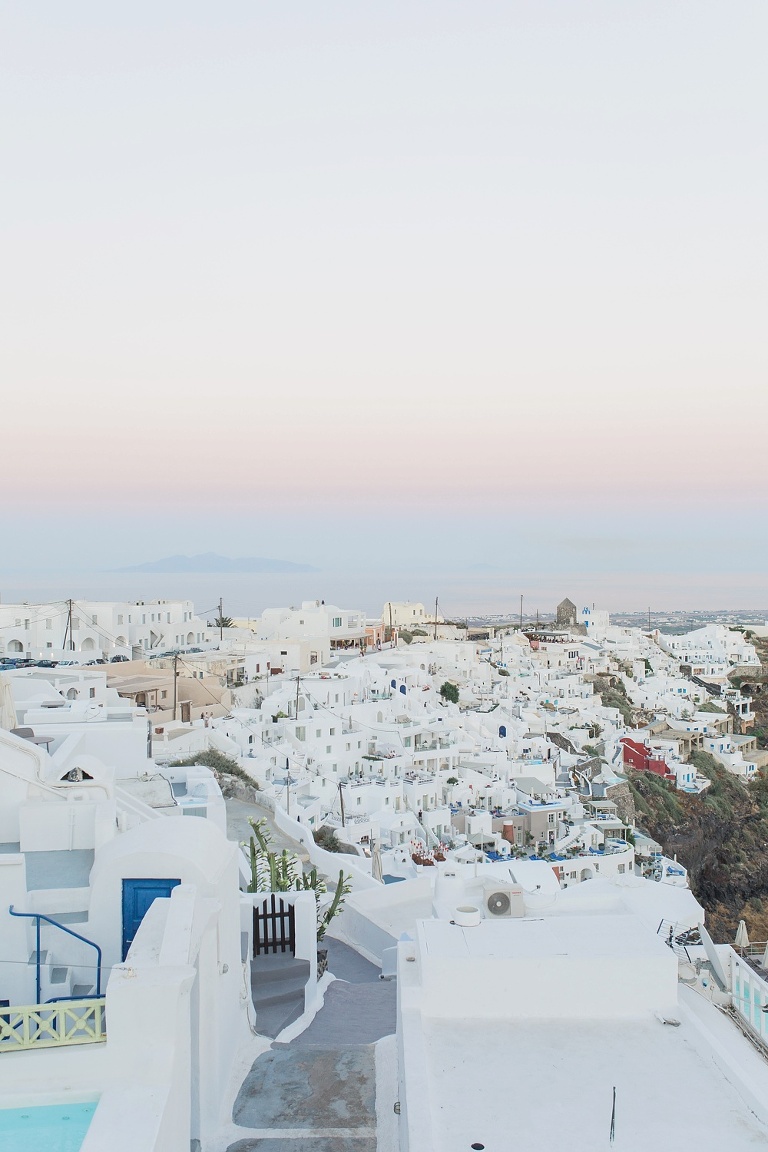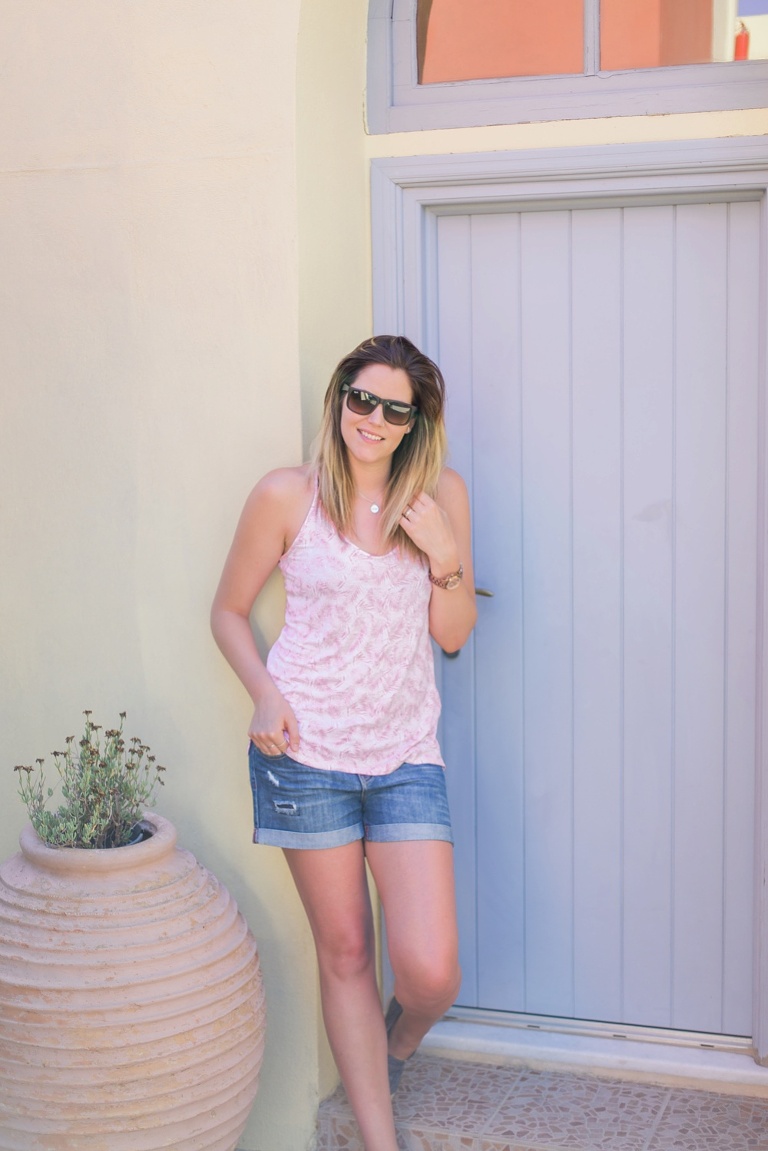 There are lots of little shops and restaurants all around Oia, but if you are looking for something quick and tasty I recommend a little spot called Pita Gyros just a short walk from the bus stop. Once you are fueled, take a stroll down to Amoudi Bay. Someone mentioned to us that it was about 300 steps, but it honestly felt like more on the way back up. It's a fun view up towards Oia and you can grab a snack at one of the little restaurants along the water's edge. Again, there is the donkey option for the way up, but not my choice. That said, the half litre of wine we drank at the bottom was not exactly fuel for the fire on the way back up. At the top of the stairs to Ammoundi Bay, you can also get some great views from the old castle. It is a great spot to get some photos looking back on Oia and all the little white buildings working their way up the cliff. It is also a great spot to watch the sunset, but prepare that people start to hold their spots a few hours before the sun goes down.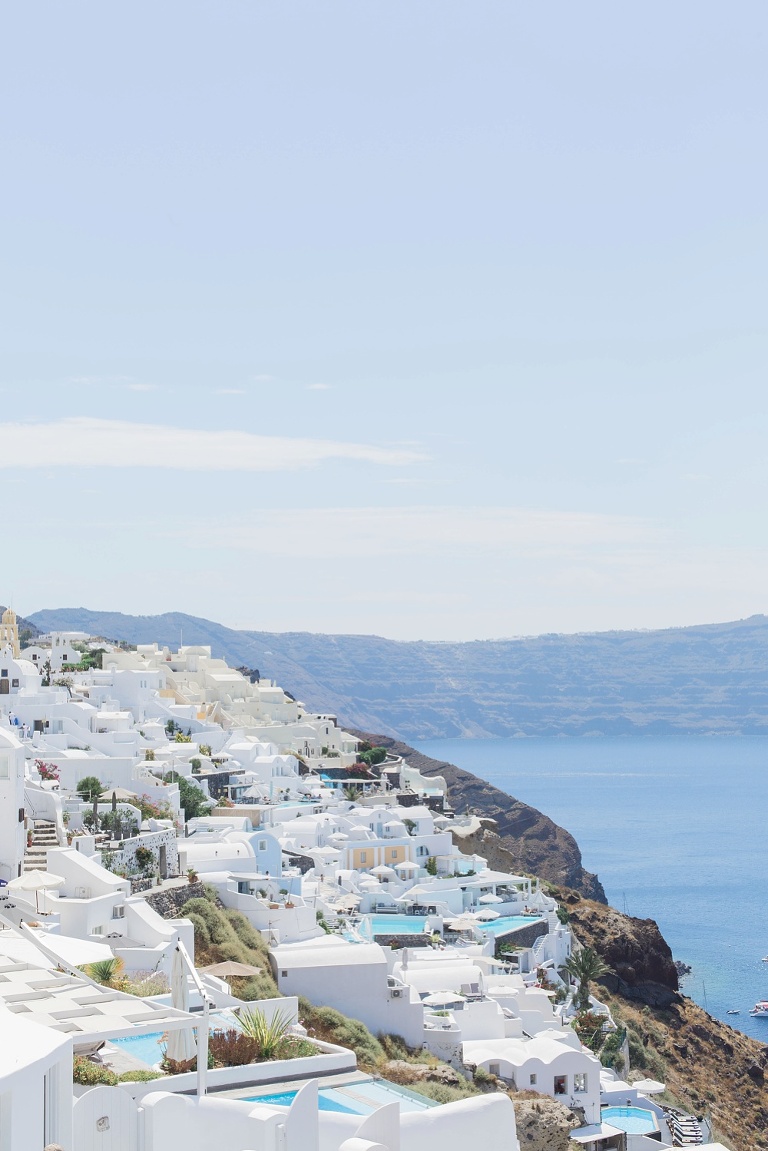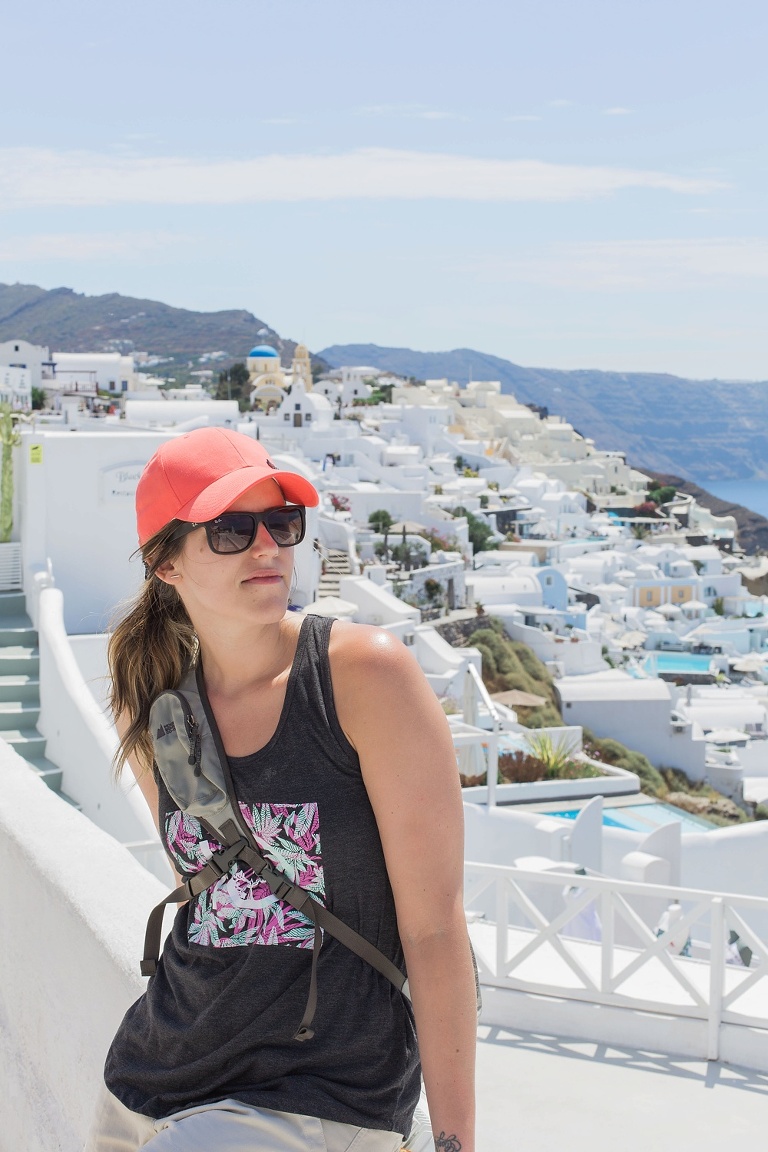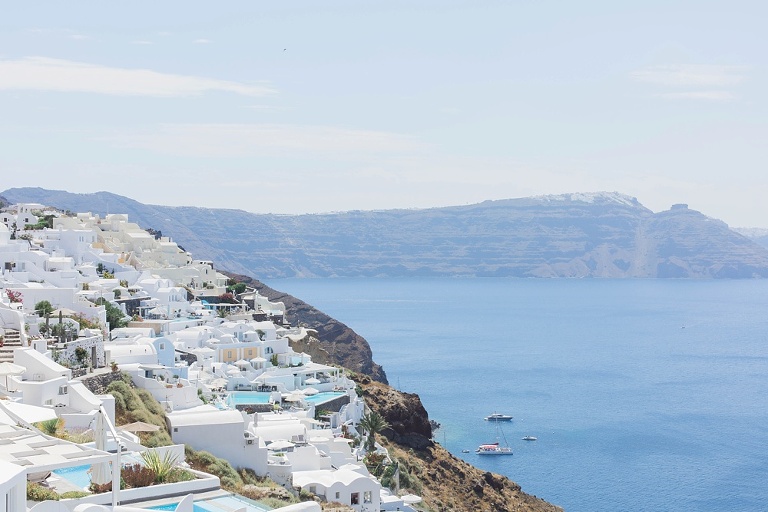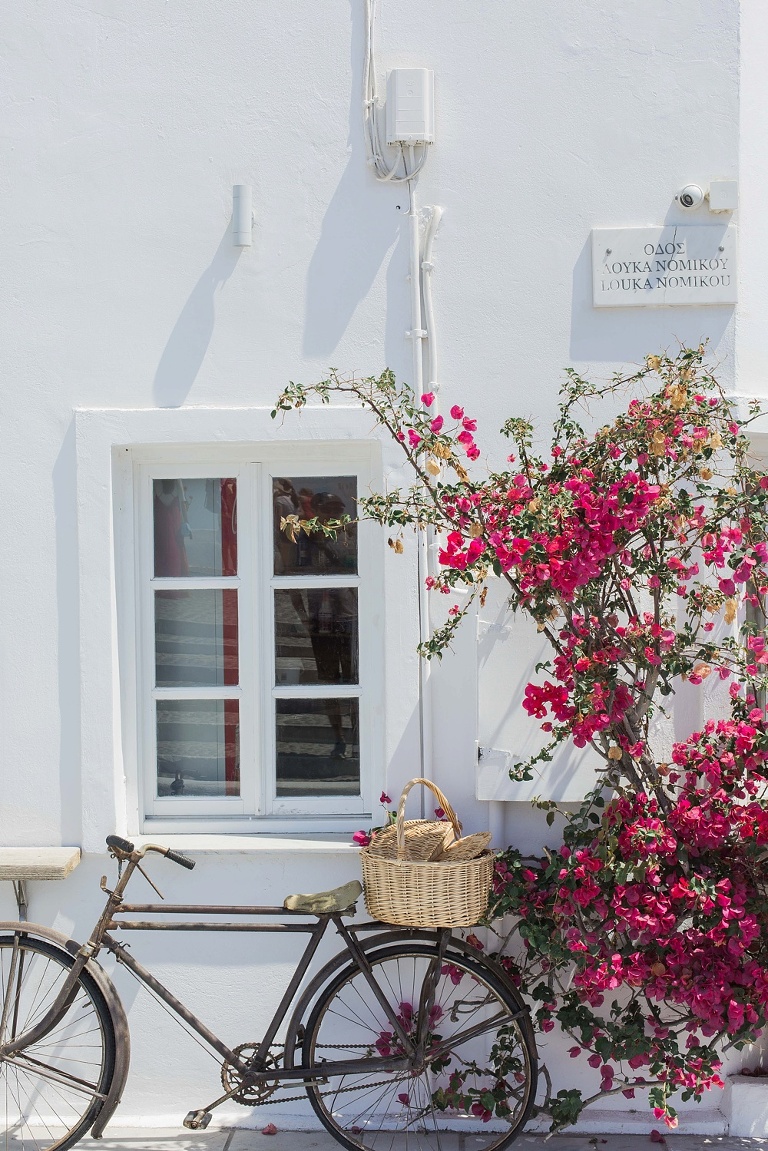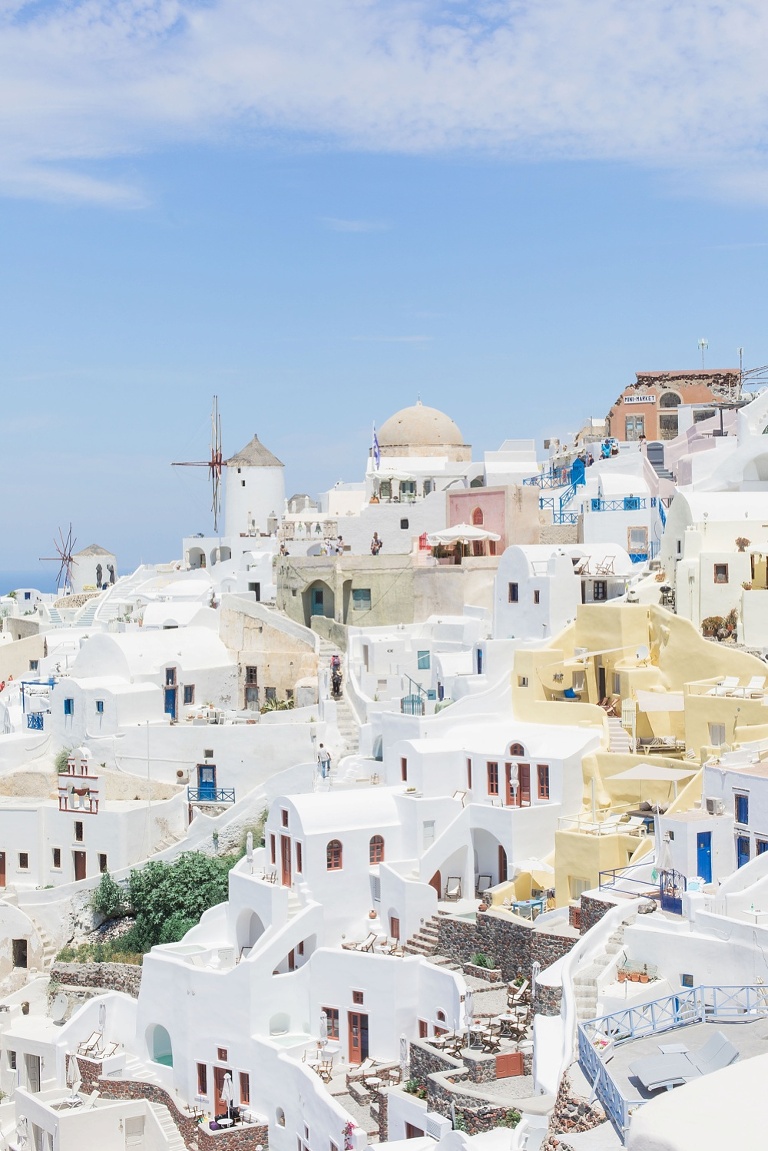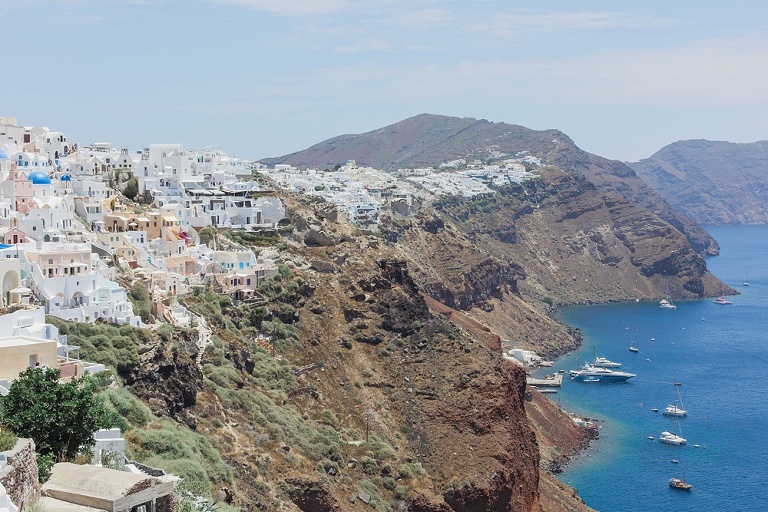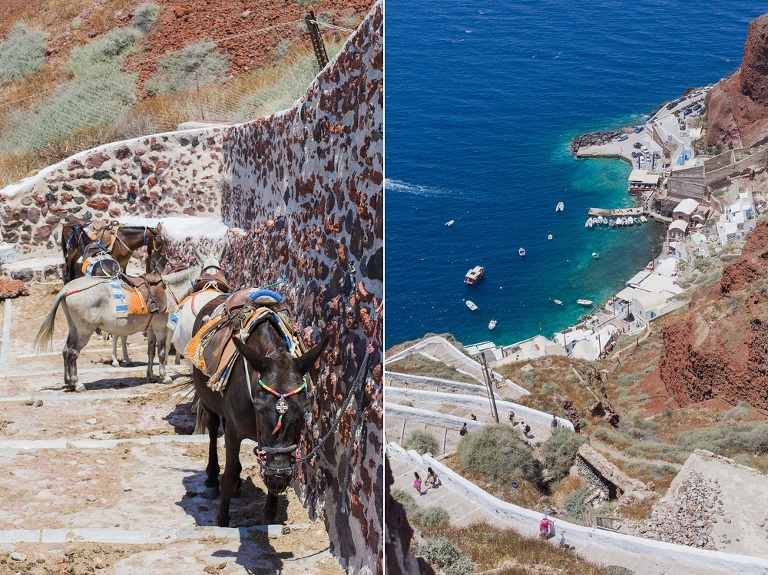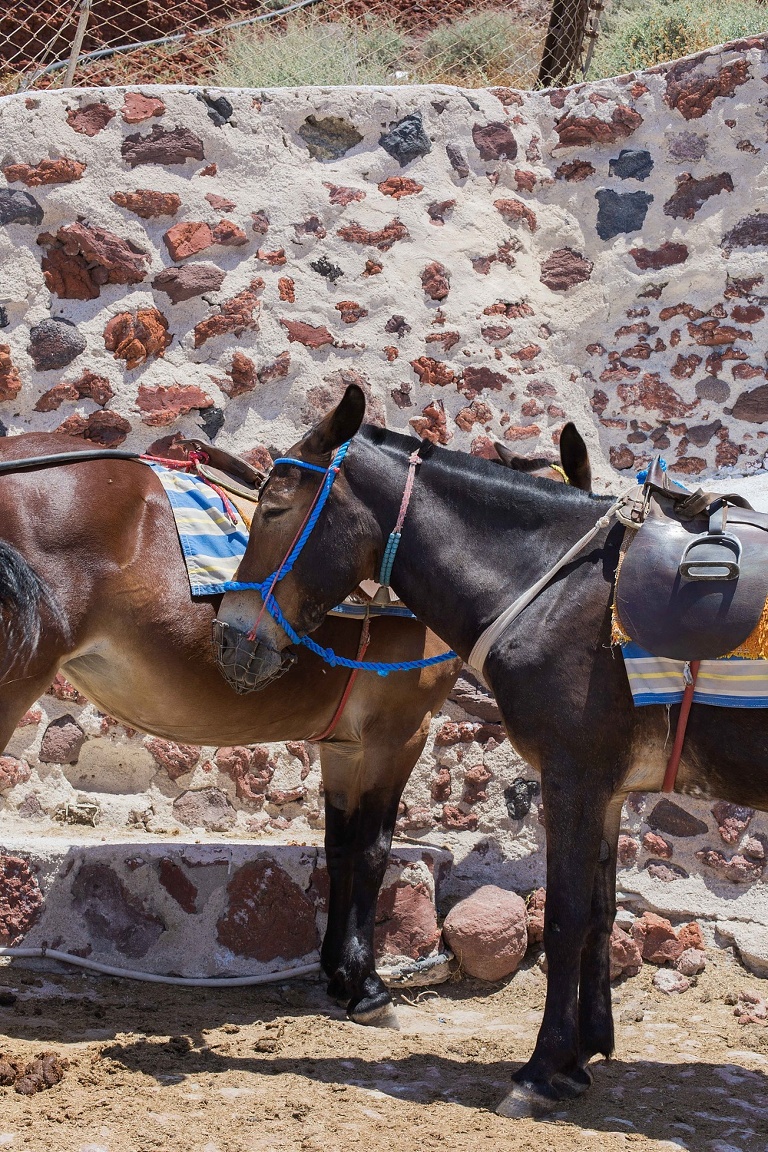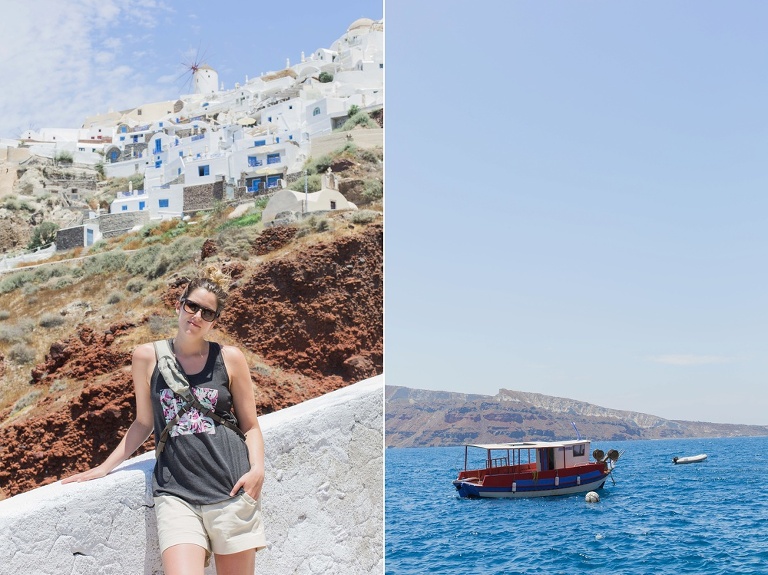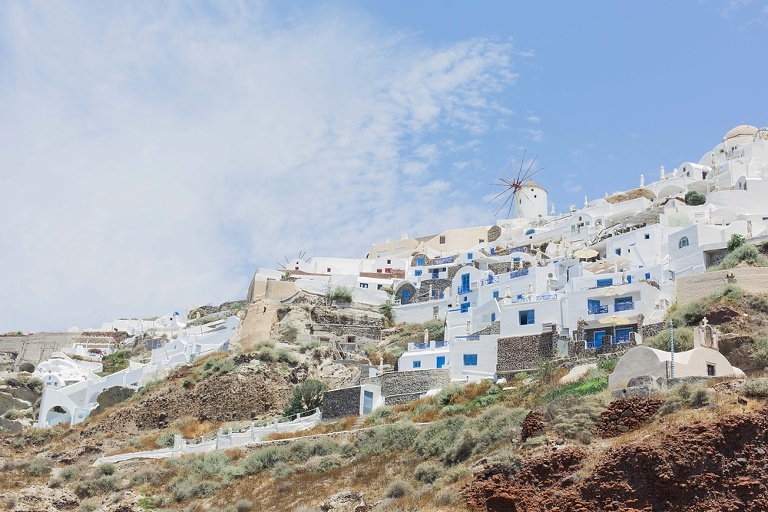 We did a catamaran boat cruise with Santorini Yachting Club and it was amazing. We booked spots on the large boat which held up to 55 people and was the least expensive option. They also had semi-private boats that help a max of 16 people, but I heard that all the boats stop at the same spots, so even if you pay the extra for semi-private you are still with tons of other people at the swimming spots. We ended up on one of the semi-private tours anyways (I am guessing they didn't fill the bigger boat) and there was only 11 of us! We had lots of room to spread out, but also met some nice people to chat with and cheer off the boat's diving board. The cruise was about 5 hours and the price included transfers to and from our hotel, lunch and beverages (including water, pop, wine and beer). The tour stopped at the volcano island and you could swim into the hot springs. The (slightly) hot springs are only about 3 degrees warmer than the regular water and don't go in with a white bathing suit if you are not prepared to toss it after the trip. The sulfur in the water stains things and even the crew will hose you off when you come back on the boat. They stop at a few other swimming spots, including red beach, and you go around the island and see the lighthouse at Akrotiri. The trip ends at another marina (it doesn't return to Oia where it starts) and then they bus you back to your hotel. It was such a great way to see the Island's terrain and relax while lounging on the deck of the boat.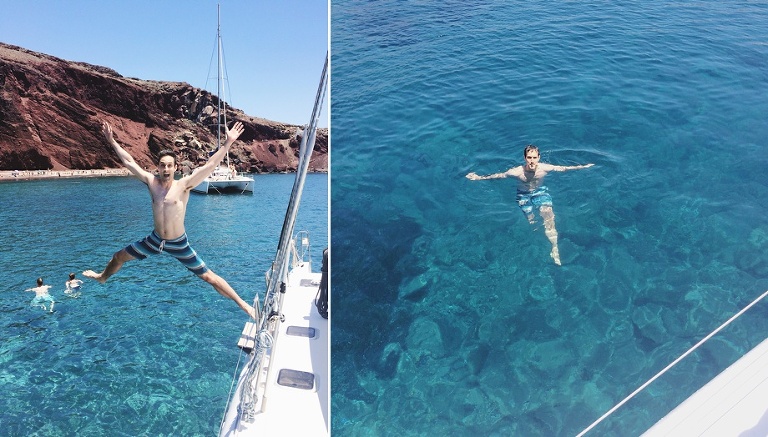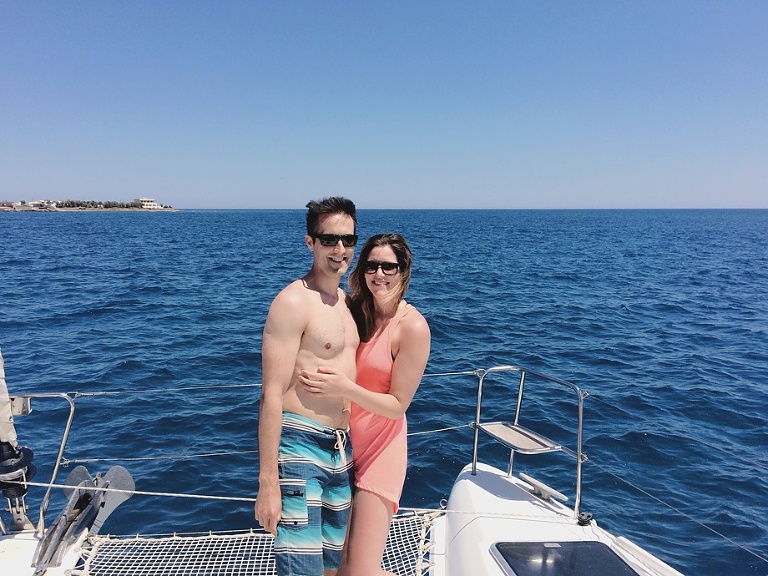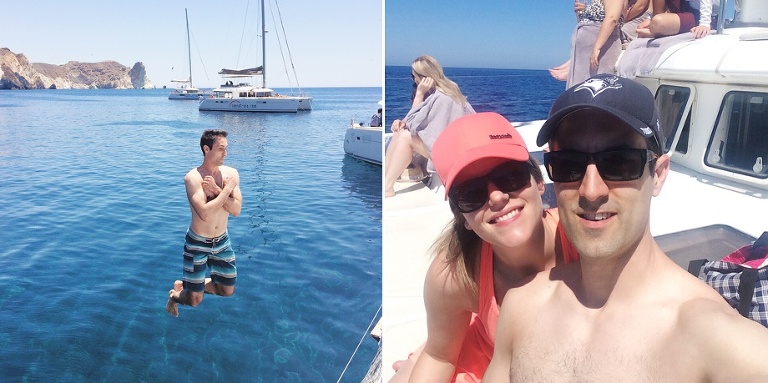 Getting around Fira, Imerogovli, and Oia doesn't require a car, but if you want to explore some more of the island then a car or an ATV/scooter is helpful. We originally planned to get an ATV, but once there changed our mind after hearing stories of people flipping them (and to be honest seeing some of the cowboy tourists ripping around on them). I would however totally recommend doing a day trip to see some of the rest of the Island or hitting some of the beaches if that is your jam. Our ferry to Crete wasn't until 5:25pm, so we rented a car at 9am the last day and toured around before dropping the car at the port and jumping on the Ferry. We paid an extra 15 euros (it was 35 euros to rent the car for the day), but it would have cost at least that to book a transfer to the port. We started by heading to Akrotiri Prehistoric City right by the Red Beach. The ruins are inside a lovely air conditioned space which gives a nice break from the heat and little signs along the walking route tell you all about the buildings and the history. A pass for Prehistoric City is 12 euros, but for 14 euros you can get a 4 day pass for a few different historical sites. We went with the 4-day pass and also visited Icons and Relics Collection of Pyrgos (in Pygros) and the Archaeological Sites of Ancient Thira (in Kamari). The pass also included the Prehistoric Museum of Thera and Archaeological Museum of Thera, both in Fira.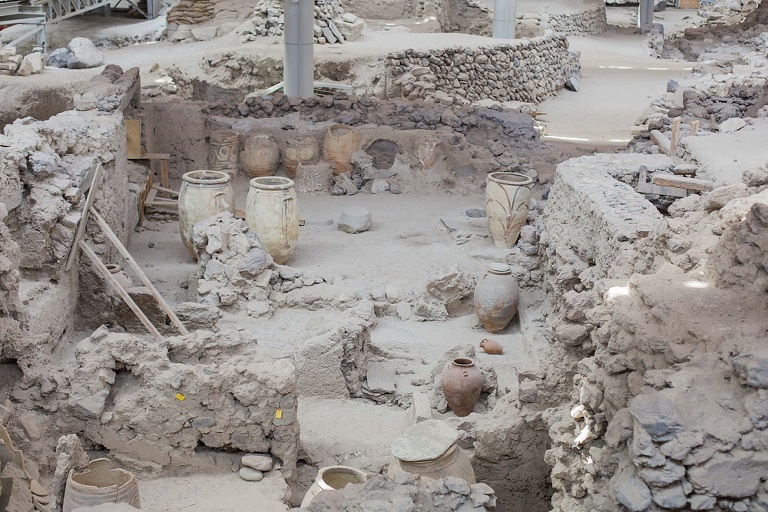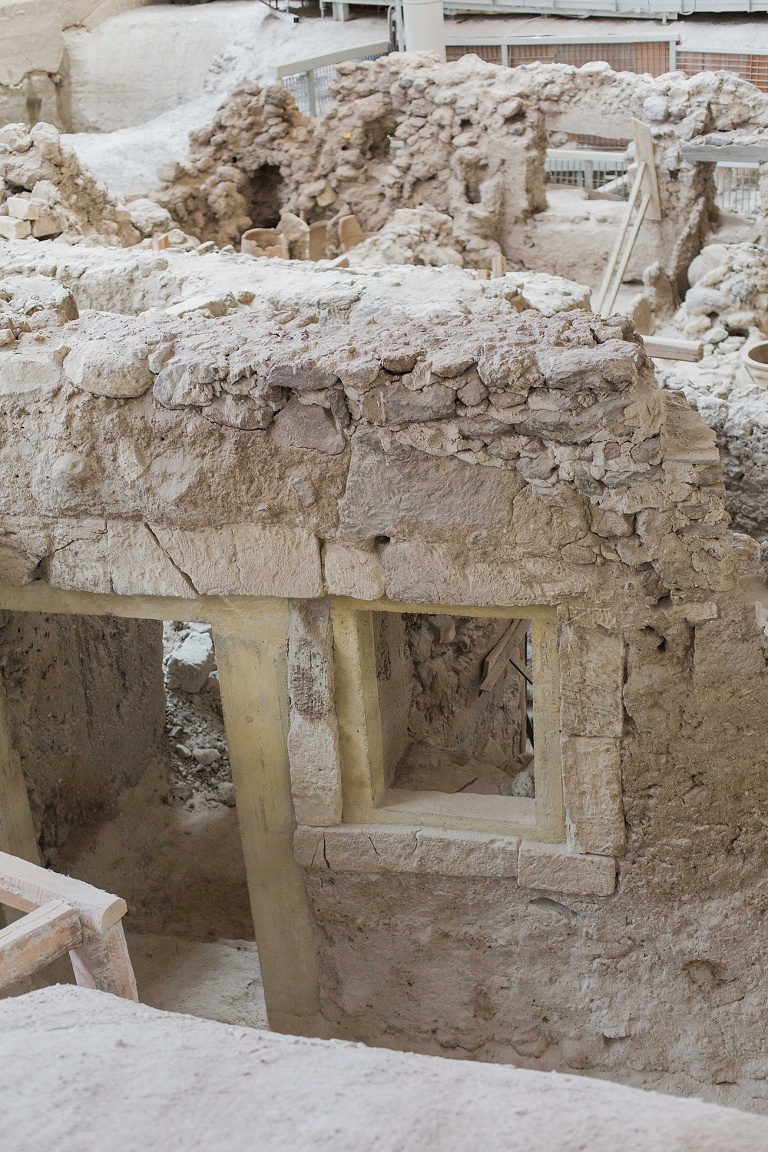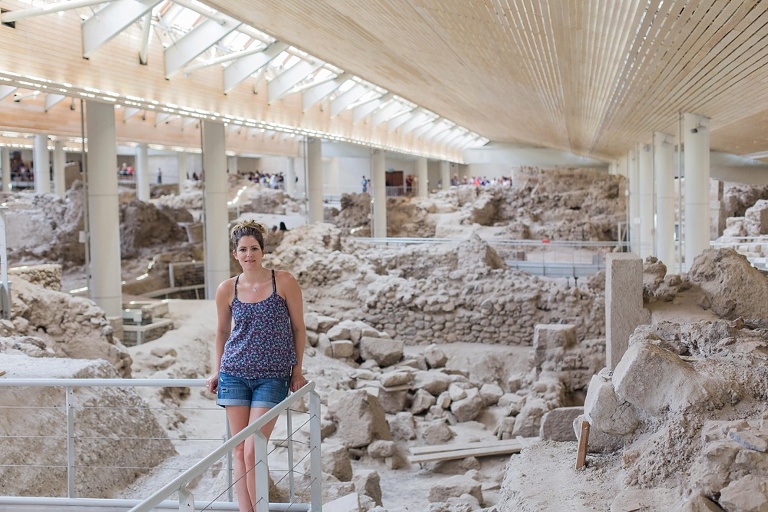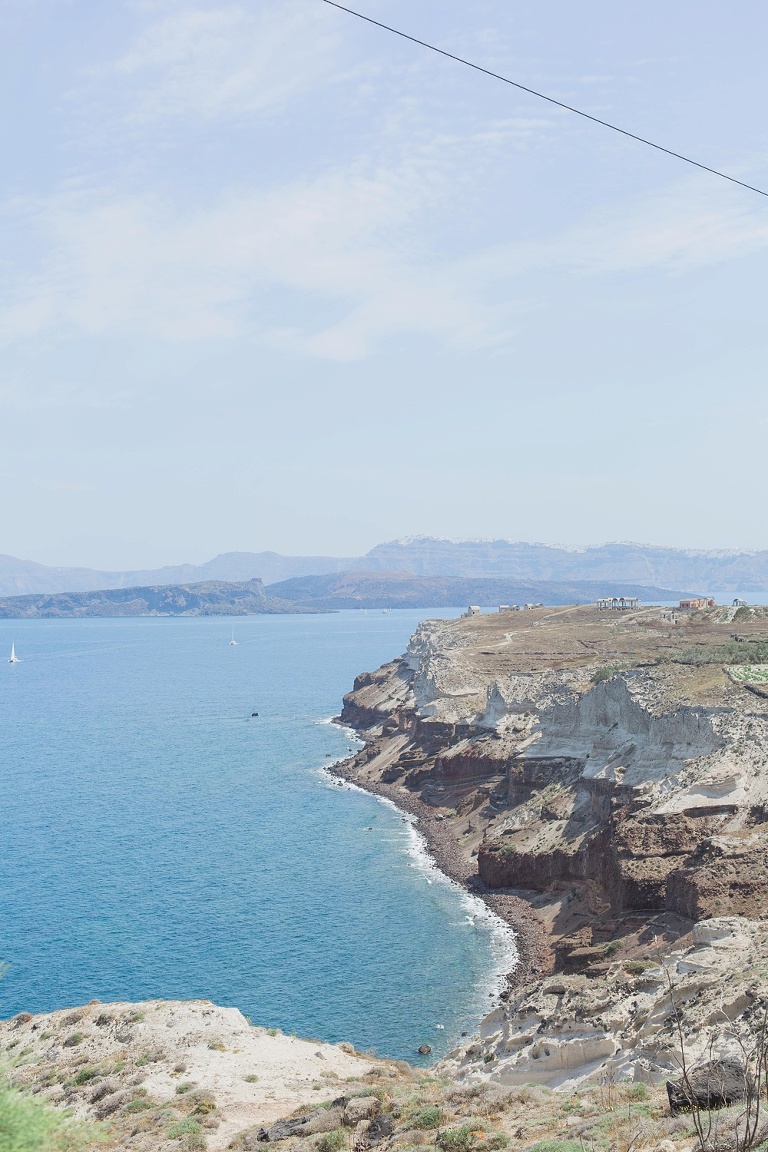 While on the road from the prehistoric city, drive up to the lighthouse at Akrotiri. It is just a short walk to a beautiful view, but tread carefully as it is a steep drop down if you lose your footing (which is a general theme around Santorinin). We didn't stop at any of the beaches on this side of the island (except for by boat when we did the day sailing trip), but the black sand beaches like Kamari Beach or Perissa Beach seemed more appealing when we went by. We just cruised through Perissa quickly, but I got a really fun beach town vibe from it and part of me wishes we had been in beach-mode and stopped for a bit, but that wasn't in our plans for the day.
The town of Pirgos is worth the stop. It has some great history, old churches, and a great view of the Island. It is a much slower pace than Oia and Fira and there are a few shops and little restaurants. You can continue past Pirgos and up to the top of the mountain for a spectacular view from even higher – but the road up is a little scary, so brace yourself.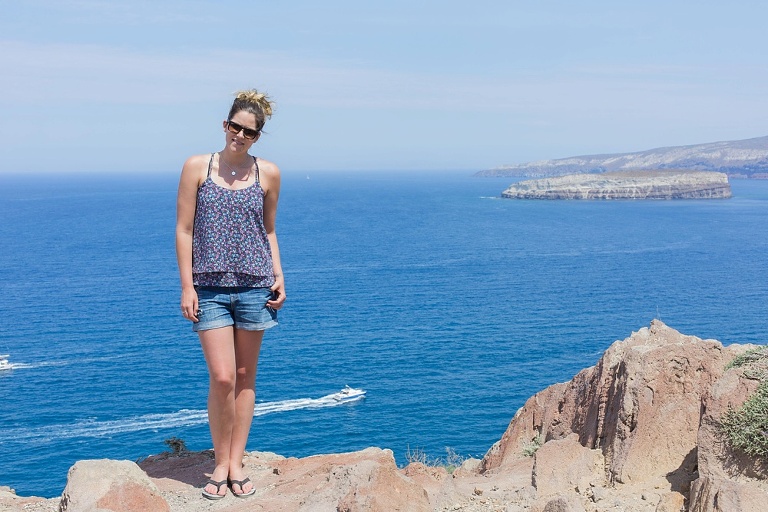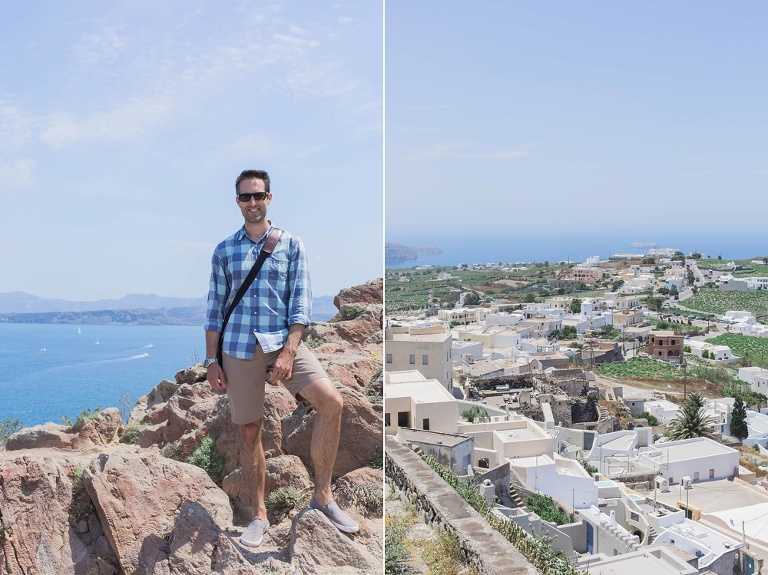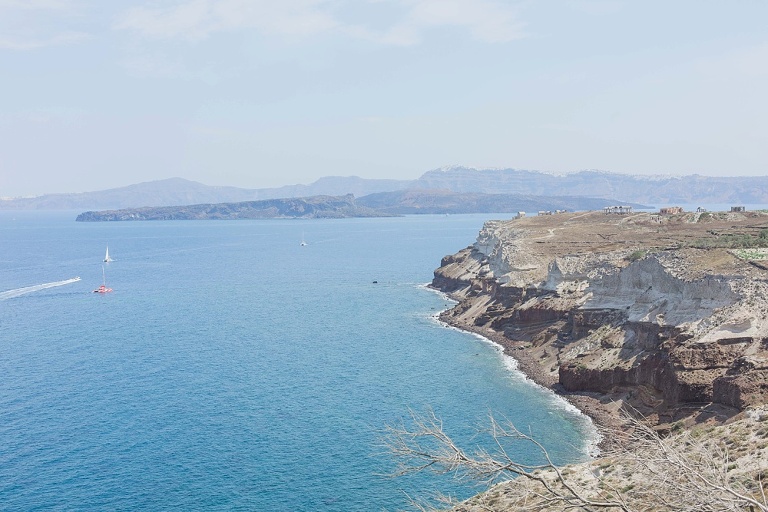 Ancient Thira is just up (and I literally mean up) from Kamari. The drive requires an intense switch back where we counted 33 turns! At the top of the switch back you can park your car and then walk up to the ruins. Beware that they close earlier than you would expect – we were told 3:30, but when we arrived at 2:30 the gate was closed. We managed to convince the woman at the door to let us in and we promised to just just go part way to take a quick look and be back by 3:00. She said it takes an hour to walk through (I guess why they don't let people in past 2:30?), but we ran a bunch of the uphill parts and got all the way through and back to the gate by 3:05. It would have been nice to read more of the signs and understand more of the history, but it was still really cool to see. Be prepared it is all rough terrain and a lot of uphill walking.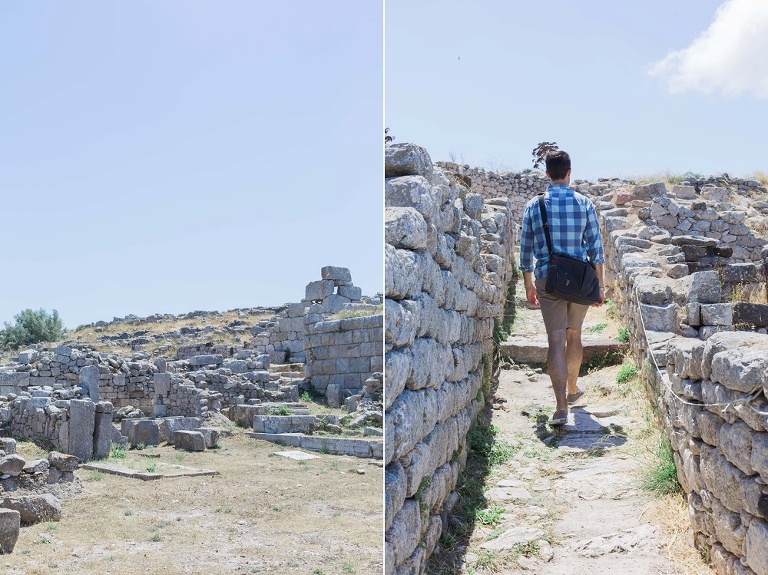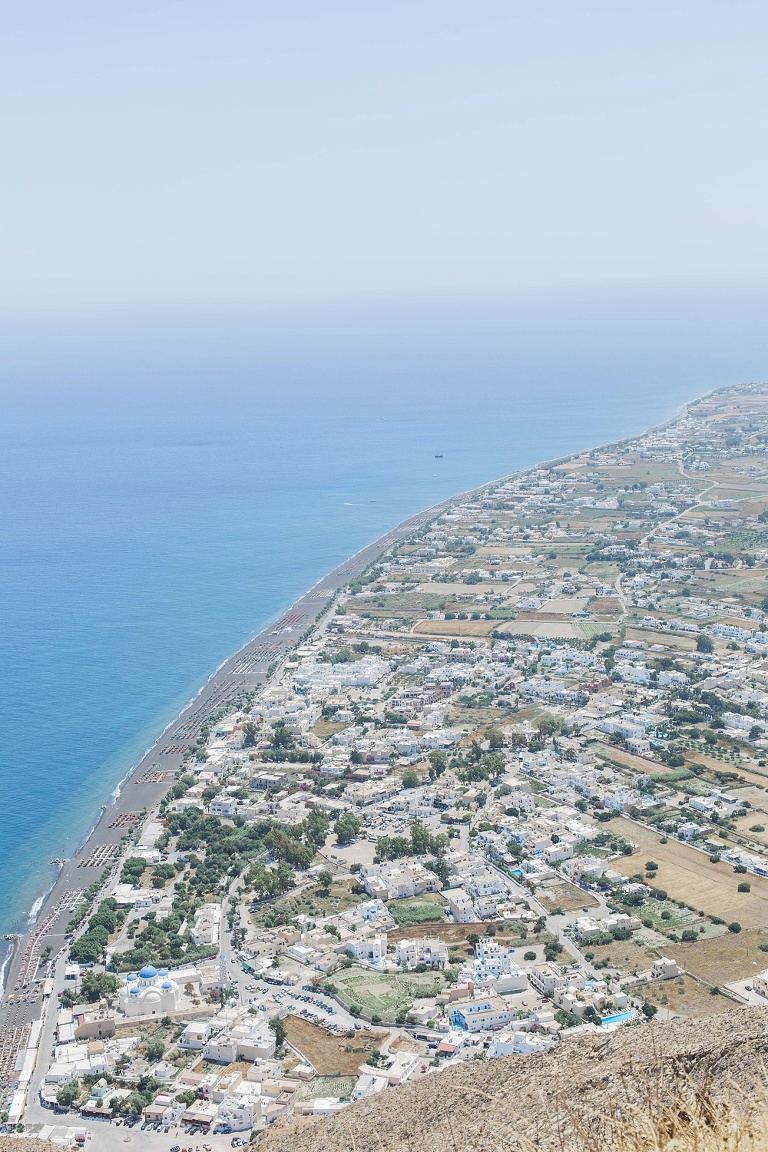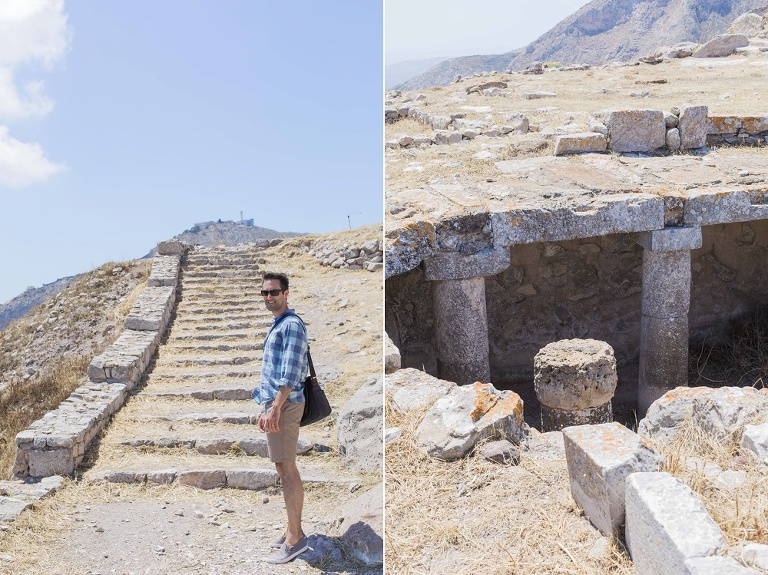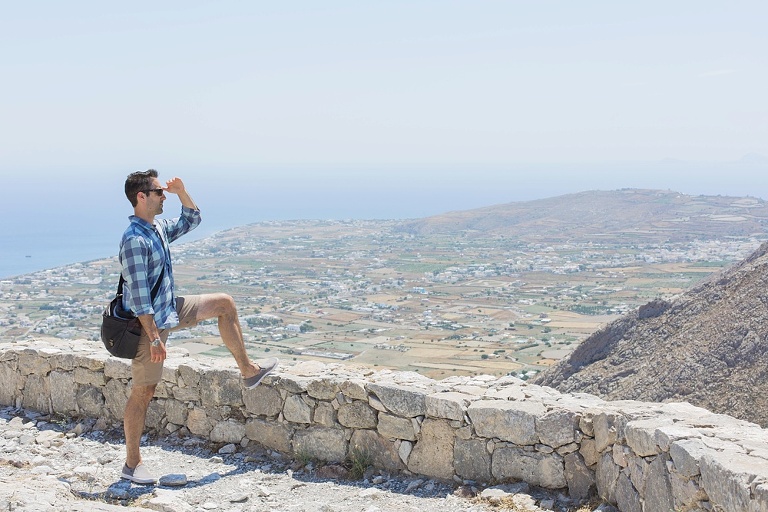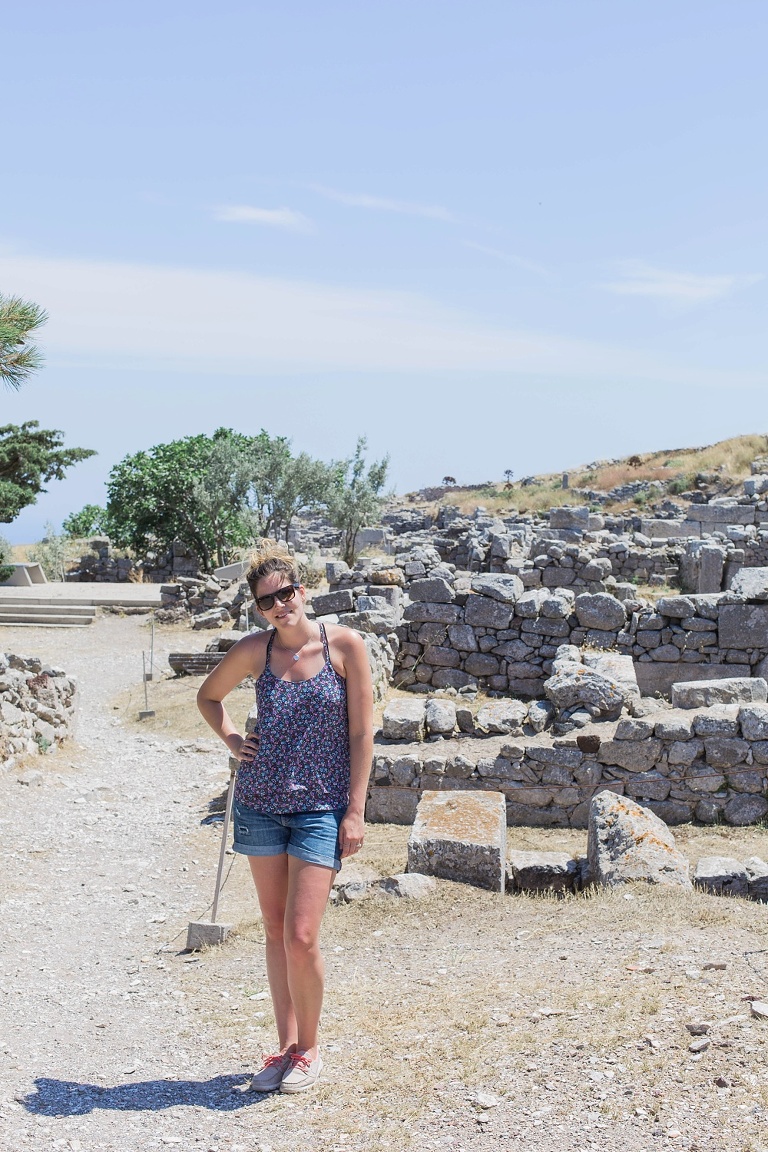 Santorini has some incredible winerys, so if that is your jam then plan to stop at a few vineyards for tastings along the way. We stopped at one vineyard and did a 4 wine tasting for 12 euros, but I did see a few signs for free tastings as well.
From there we dropped our rental car at the ferry port and headed on our way to Crete!